Chevy Vehicles from TV and Movies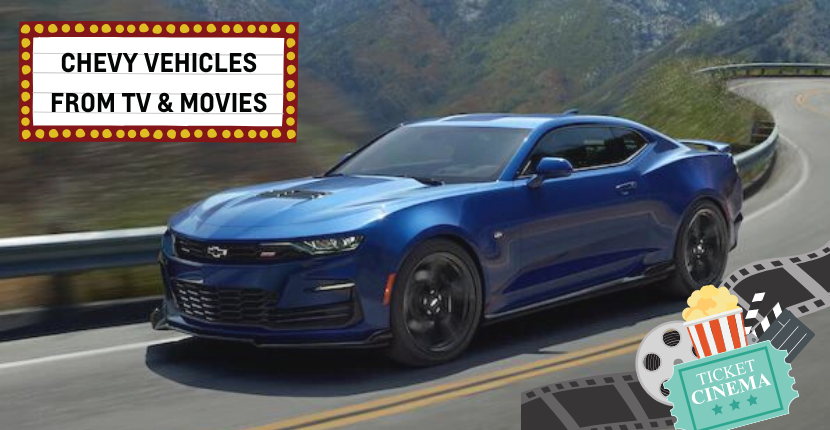 If you have been binge-watching TV shows and movies during quarantine, you probably have seen some great Chevy vehicles on your TV.
According to GM Authority, "General Motors has come up with a good way for Chevrolet fans stuck inside with little to do to pass the time, however. The automaker recently put together a list of popular TV shows and movies in which a Chevrolet vehicle plays a major role and challenged enthusiasts to go through the list and spot the various Chevys that appear in the programs."
Below, you can check out some of the favorite Chevy vehicles to be used in TV shows and movies. You can learn more about those vehicles and what shows they were featured in below.
Chevy Corvette
The Chevy Corvette was first produced in 1953. This vehicle originally had a 3.9-liter straight-six engine. The Chevy Corvette is still made today, but there have been many updates and improvements to this vehicle. The 2020 Chevy Corvette has a top speed of 194 miles per hour, and this vehicle can go from zero to 60 in just 2.9 seconds.
Check out some of the TV shows and movies the Corvette has been featured in below.
Route 66
Miami Vice
21 Jump Street
Veronica Mars
Sleepless in Seattle
Chevy Camaro
The Chevy Camaro was first produced in 1967. The 2020 Camaro has four available powertrains with max available horsepower and torque at 650.
Check out some of the movies the Chevy Camaro has been featured in below.
Transformers
Transformers: Revenge of the Fallen
Transformers: Dark of the Moon
Transformers: Age of Extinction
Transformers: The Last Knight
Chevy Malibu
The Malibu name for Chevy first came into existence as the top model for the 1964 Chevy Chevelle. The 2020 Malibu can get you where you need to go with reliability and style. This vehicle offers you sophisticated looks and plenty of technology and safety features.
Check out a couple of movies the Chevy Malibu has been featured in below.
Those are not the only Chevy vehicles featured in TV shows and movies. The Chevy Silverado is also found in the TV show Friday Night Lights. The Chevy Suburban can be found in Sopranos. Stranger Things has 1975, 1983, and 1987 Chevrolet Blazer. The 1958 Chevy Impala can be found in American Graffiti.
Are some of your favorite Chevy vehicles featured in a show that you love? Do any of these movies remind you of a classic Chevy ride that you used to enjoy? As you can see, Chevy has been a part of a lot of TV and movie history. Chevy also makes some great new models for you to enjoy now, and you can check them out at Ray Chevrolet.
Ray Chevrolet is a Chevy dealership near you, and we have a lot of great Chevy models for sale. Check out our inventory online, or come take a test drive today.