SUV vs Sedan: Which Is Right for You?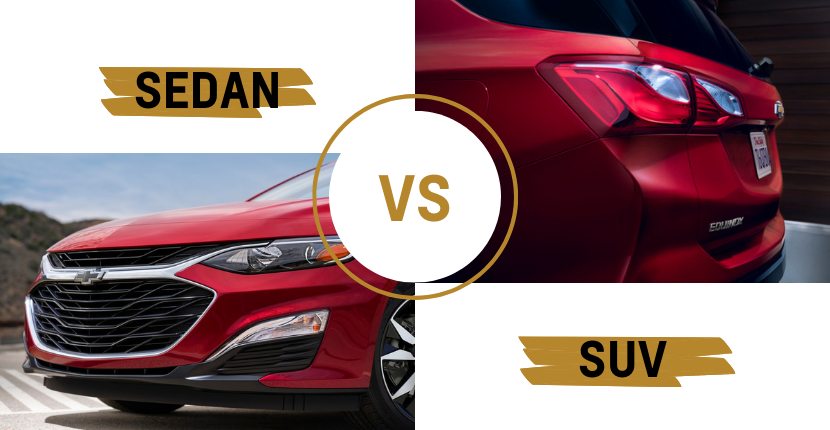 Sedans: Fuel Efficiency, Comfort, and Cost
Fuel Efficiency
In terms of fuel efficiency, sedans are great for savings. Because sedans are generally smaller than SUVs in length, height, and weight, they have aerodynamic efficiency that significantly impacts the vehicle's miles per gallon. This will result in spending less time and money filling your gas tank. Some of Chevrolet's best-selling sedans are the Malibu, the Impala, and the Cruze.
Comfort
If you're wondering which is more comfortable between SUVs or sedans, sedans are generally favored for their comfort. Because the seating position in a sedan is lower to the ground than in an SUV, your body is in a more natural position for maximum comfort. Additionally, the body of the vehicle tends to handle more smoothly during cornering, meaning your body position won't be disrupted when turning a sharp corner.
Cost
Sedans are also preferred for their low cost. Because SUVs generally offer more complex performance technology, increased towing capacity, and off-roading capacity, they tend to be higher in cost than sedans. Typically, sedans come standard with two-wheel drive, so you won't have the added cost of all-wheel drive or four-wheel drive. While there are certainly pros and cons of AWD, it isn't necessary if you are usually driving on dry, paved roads in a climate with little inclement weather. For customers with a tighter budget, sedans offer a great lower-cost option that still gives you and your passengers comfort and functionality.
SUVs: Seating & Cargo, Off-roading, and Towing
Seating & Cargo
SUV pros and cons are varied, but their capacity for seating and cargo is certainly a plus for families, road trippers, and those with transporting needs. Because SUVs are typically taller and longer than sedans, they have much more interior space, especially in terms of legroom. Most SUVs, including the Chevy Trax, Equinox, and Traverse, have extensive cargo space and have the ability to fold down one or more rows of seats to create more space. While it may not be ideal for some people, others prefer the higher driving position for body position and increased sight reasons.
Off-roading
SUVs also offer more superior off-roading capabilities than sedans. For adventures fond of frequenting the mountains or dirt trails, SUVs are really the only option. While sedans offer the simpler two-wheel drive, SUVs will give you the best vehicle for your needs with either all-wheel drive or four-wheel drive. The benefits of these two systems are that you'll get better traction and more control on uneven ground, as well as an optimized suspension to deal with rougher terrains. Additionally, a drawback of sedans in terms of off-roading is that they are much lower to the ground, which leaves the vehicle's frame more vulnerable to damage from debris and coarse landscapes.
Towing
Finally, SUVs offer more towing capability than sedans. From a trailer to a boat, hauling with an SUV is the way to go. Though tow hitches aren't always standard on all SUVs, plenty of models offer this feature. SUVs also offer higher torque and towing strength capacities, which are not available with sedans.
So, are SUVs better than sedans or vice versa? It just depends on your needs. For help making your decision, visit Ray Chevrolet in Fox Lake to learn more and test drive Chevrolet's SUVs and sedans today!