Chevrolet Expands Packages on Certain SUVs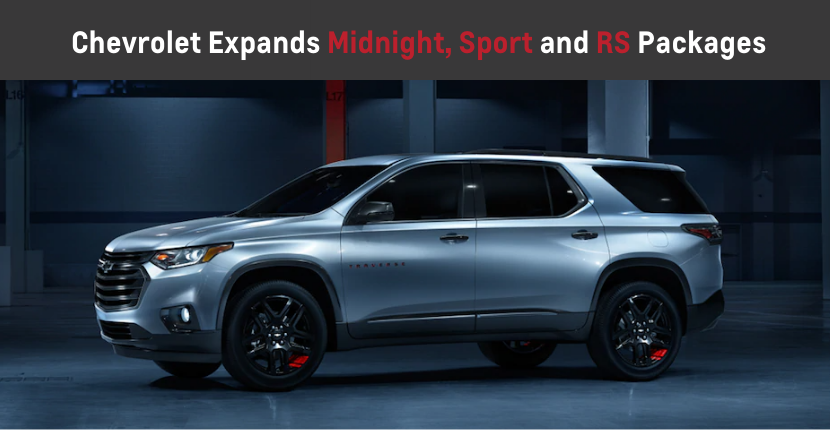 With the 2021 lineup, Chevrolet is set to expand the availability of Midnight, Sport, and RS packages on SUV portfolios. Due to overwhelming success of these Chevrolet packages, the auto company is expanding their availability to meet a wide range of customer needs. 
Steve Majoros, the Vice President of Chevrolet Marketing, said about the plan, "Customer choice is a competitive advantage for Chevrolet. Special editions and unique trims allow us to offer customers the custom look they want straight from the factory. This helps us get more customers interested in our vehicles, which in turn can help Chevrolet grow sales volume, market share and revenue. It's a win-win for everyone."
Midnight and Sport Editions 
Now, the Midnight and Sport editions will be available on half of all Chevrolet vehicles. When offered, about 1 in every 5 Chevrolet Trax vehicles sold are Midnight and Sport editions. Based on this success, Chevrolet will now offer customers the 2021 Traverse in the Midnight and Sport trim levels. Additionally, the Chevy Equinox Midnight edition will be available on the 2021 model year. 
2021 Traverse Midnight Edition
The new Midnight Edition offers an all-black approach to the Traverse's LS and LT trims. Starting with a Mosaic Black Metallic exterior color, the Midnight Edition includes a black ice grille, black-painted aluminum wheels, black bowtie and badging, and black roof rails. 
2021 Traverse Sport Edition 
Available on the LS and LT trim levels in a variety of colors, the 2021 Traverse Sport Edition includes black-painted aluminum wheels, a black ice grille, fog lamp bezels, and tailgate appliqué. Highlights also include black roof rails, black Traverse badging, and black bowtie emblems. 
RS Package 
The Chevrolet RS package will also be expanded for 2021 models, including for the Chevy Trailblazer and Equinox. Since 2018, Chevrolet has sold more than 140,000 vehicles with the RS trim, making it one of the most popular Chevy trim packages. Given this success, the RS trim package makes up as much as one-third of Chevrolet's 2021 small and mid-size SUV sales. In fact, the RS trim has the highest penetration rates of any special edition in the small to mid-size SUVs. It has been particularly successful on certain models; for example, a quarter of all Trailblazers are RS editions — more than double the forecasted amount 
2022 Equinox RS Trim 
Highlights of the Equinox RS Trim include a gloss black mesh grille, 19-inch Dark Android wheels, black bowtie emblems, black badging and nameplates, black roof rails, an RS shift knob, eye-catching red stitching, and black interior upholstery. 
Redline Edition 
Chevrolet will also expand the Redline Edition due to its success when paired with SUVs. In 2020, Chevrolet's SUVs made up nearly 85% of all Redlines sold. Now, the 2021 Traverse Redline Edition will have expanded availability due to customer preference for it. Of all Traverse Premier buyers, nearly 60% select the Redline package. The bold and sophisticated Redline Edition features 20-inch high-gloss black wheels with red accents, black bowtie emblems, a signature black ice grille, gloss black window trim, black roof rails, dark taillamps, and black-painted lower moldings with black ice inserts. 
Ray Chevrolet
Visit your Fox Lake Chevy dealer Ray Chevrolet, to learn more about and test drive 2021 SUVs with these excellent new packages today! The search for a "Chevrolet dealer near me" ends here at one of the best Chevy dealers in Illinois.