What is the Chevy College Discount Program?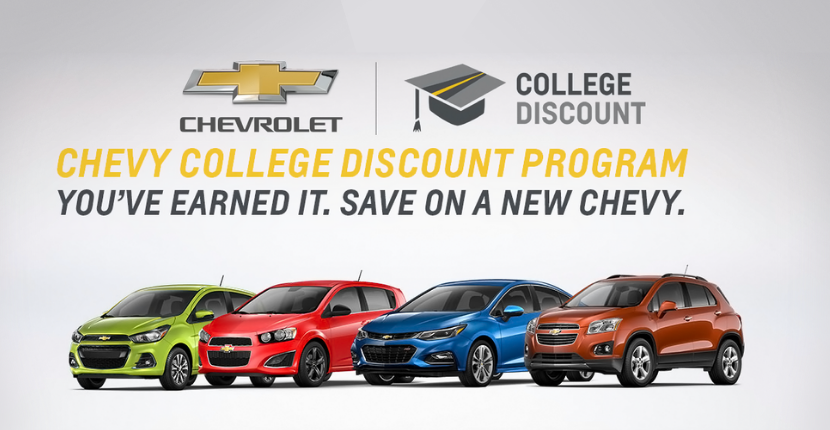 Life is tough for college students in many ways, which is why Chevrolet is making it easier with the Chevy College Discount Program. For current college students, nursing school students, and recent college graduates, the Chevy College Discount Program is designed to give you reliable mobility at an affordable price, so that you can get to class or those important job interviews. Take advantage of the Chevy College Discount Program at a Chevrolet Dealer Near Me now!
What is the Chevy College Discount Program? 
Chevrolet is teaming up with General Motors to give college students a big discount on a new Chevrolet. The Chevy College Discount Program makes getting a new car easy by helping you make a good decision that will last for years to come. The program allows qualified customers to purchase or lease a new Chevy vehicle at a discounted price that is lower than the vehicle's MSRP. 
If you want a car for the long term, the Program makes purchasing easy. Alternatively, if you think you might want to upgrade from a Chevy sedan to an SUV or truck, the leasing option will help make this an easy transaction. In order to qualify, all you need is proof of your current enrollment, or a diploma dated no more than two years prior to the purchase or lease of your new vehicle or vehicles. (Eligible members of this program may purchase or lease up to two vehicles from Chevy dealers per calendar year from this program).
Car Benefits in College 
Having a car in college comes with lots of benefits. Easy access to wheels will make your life so much easier. Whether it's running to the grocery store, making it to an important job interview, or relaxing with a weekend getaway! Here are some the great benefits of having a car in college: 
You Don't Have to Worry About Transportation Around the Holidays

Traveling during the holidays can be hectic and expensive. Getting home – even if it's a day or two drive – can be done on your own terms. 

You Can Get an Off Campus Internship or Job

Having a car makes having an internship or job off campus much more plausible. It opens additional professional doors, giving you added benefits for your life after college. 

You Can Leave Campus When You Need a Break

College life is stressful. It's important to get a break every now and then. Having a car means you can head to a concert somewhere in town, go out to dinner with friends, or even visit family or friends a few towns over. 
There are also many great benefits to having a car if you're a recent college graduate. For example, getting quickly and conveniently to your job, running errands, and moving to a new city. 
Visit Your Fox Lake Chevy!
At Ray Chevrolet, we have a wide selection of new and used Chevys for sale. Pick out your new Chevy Sedan, Truck, or SUV today. Make sure you take advantage of the Chevy College Discount Program at Ray Chevy Fox Lake today!