What Is Buckle To Drive?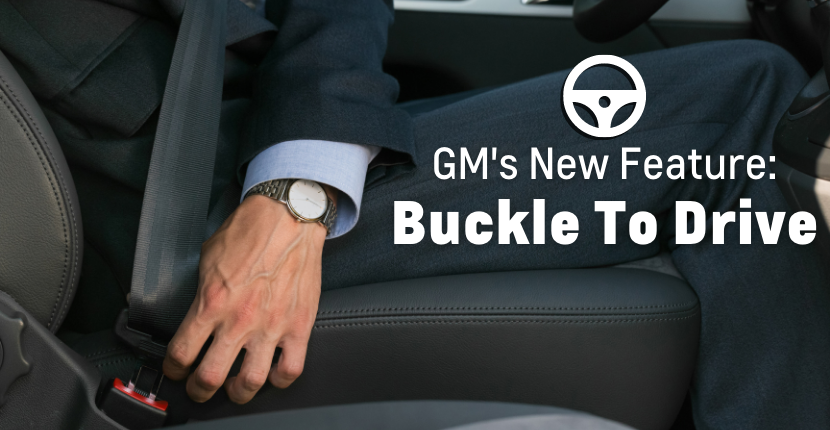 First launched for select Chevrolet vehicles, General Motors' industry-first Buckle to Drive feature helps remind young drivers to buckle up before driving. Part of Chevrolet's Teen Driver Technology, it works to make sure young drivers stay safe. It reminds drivers to always buckle up before hitting the road. To further help drivers stay safe on the road, the Buckle to Drive feature is now expanding to more GM vehicles. Check out the Buckle to Drive feature at Ray Chevy!
Seatbelts And Teen Drivers
Curious why you should wear a seatbelt? It's basic, but it's the most important way to protect yourself in your car. So, when did seatbelts become mandatory? After years of fatalities and serious injuries, seat belts became mandatory in all new United States vehicles in 1968. 
Teen drivers have some of the lowest rates of seat belt use. In fact, the Centers for Disease Control and Prevention found that the majority of teenagers involved in fatal crashes are unbuckled. To address this problem, General Motors created the Buckle to Drive feature. IIHS found the feature increased seat belt use by 16 percent compared to the standard audible chime seat belt reminder in similar Chevrolet vehicles.
When in Teen Driver Mode, the vehicle prevents the driver from shifting the vehicle out of park for 20 seconds if the driver's seat belt is not buckled. When the brake pedal is pressed, the driver will hear an audible alert and see a notification. The message in the driver information center reads "Buckle Seat Belt to Shift". While the feature is exclusive to Teen Driver Mode for now, GM plans to expand the feature for all drivers soon. New vehicles equipped with Buckle to Drive are available now at a Chevy dealer near me!
Expanding Buckle To Drive 
General Motors initially launched the Buckle to Drive feature for select 2021 Chevy models.  These vehicles included the Chevrolet Traverse, Chevrolet Malibu, and Chevrolet Colorado. Now, Buckle to Drive will be expanded to the GMC Canyon, Chevrolet Equinox, Chevrolet Blazer, Cadillac CT4, Cadillac CT5, and several others. Put simply, the feature is becoming standard on 2022 SUVs and full-size trucks. Chevy has planned a wider implementation for 2023 at Chevrolet dealers. 
Visit Ray Chevrolet!
Looking for a Fox Lake Chevy dealer? At Ray Chevrolet, we've got you covered. Why should you buy from Ray Chevrolet? Our unmatched service and diverse Chevrolet inventory have set us apart as the preferred dealer in Fox Lake. Visit us today to discover why we have the best reputation in the Fox Lake area!