How to Get Your Chevy Ready For Spring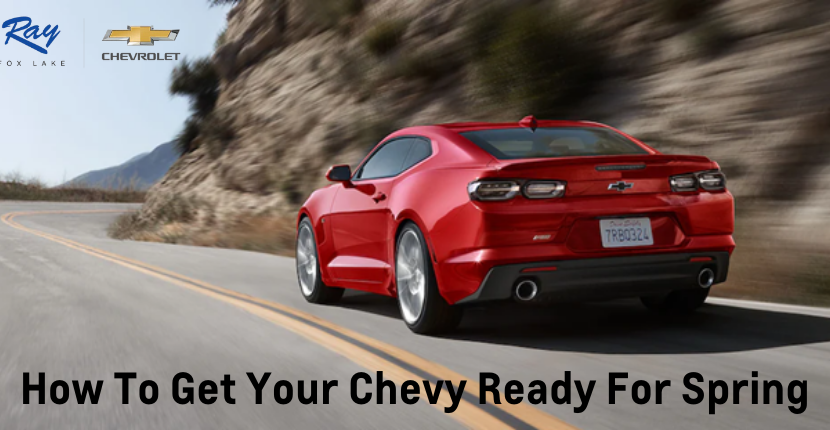 The days are longer, the weather gets warmer, the birds return home: spring is a wonderful time of the year. When March rolls around, it is probably also time to perform a little "spring cleaning" on your vehicle. Winter can be tough on cars—spend some time outdoors and follow these easy steps to make sure your vehicle is ready for the upcoming warmer months!
Let's talk tires
First and foremost, spring is the best time to check up on your tires. If you live in a colder climate, remember to switch out your winter tires to all-season tires. Leaving your winter tires on for longer than necessary harms vehicle performance and is expensive in the long run. Next up, check your tire pressure. Tires can lose a lot of pressure as the weather drops, and they will likely need some extra air. Driving on flat tires harms fuel performance and increases your chance of a blowout. Measuring your tire pressure is quick and easy with a tire pressure gauge. Many modern tires have built-in sensors that can easily be checked.
If you keep the same tires on year-round, it's a great idea to check your tread wear. If you want a quick tread test, place a penny upside down in your tire tread. If you can see all of Lincoln's head, it is definitely time for replacement, but your tires may have different tread recommendations.
Also, look for the Tire Identification Number printed on the outside of your tire. This number will have the tire date of manufacture. The rule of thumb is to replace tires every six years, but you should check your car's manual, too.
Finally, potholes are especially hazardous in winter and can easily throw off your tire alignment. Have a professional check your car's alignment and possibly rotate your tires if they haven't been recently.
Deep Clean
Salt, snow, and other sand accumulate on the roads in winter, and as you drive on the road, a lot of that grime is thrown underneath your car. Find a car wash that offers undercarriage washes, or do it yourself with a strong hose. Cleaning off that grime helps prevent corrosion and rust to your car, especially in areas that receive a lot of snow and ice.
Salt also affects your brake pads, quickly corroding the clean, smooth metal that your car relies on to stop. Most tire alignment professionals can also check your brakes, and replacing brake pads is an easy fix that keeps you and your car safe!
Leave it to the professionals!
Ray Chevrolet is fully equipped to give your car a thorough inspection as we move into the spring. Come check us out by searching for a Chevy dealer near me. Also, Chevy's Spring Tire Event Plus is a great opportunity to change out your tires for absolutely unbeatable prices. With a top-of-the-line Chevy service center, we can make your car's "spring cleaning" a breeze.