What Questions Do I Ask During a Test Drive?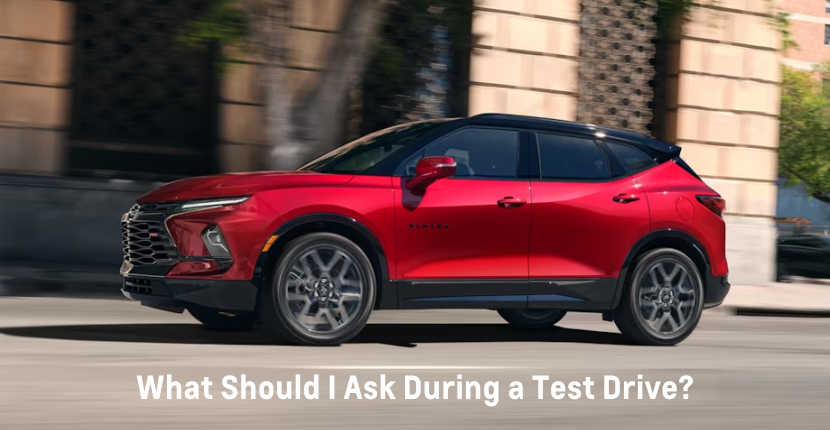 A test drive isn't just a drive; it's a chance to intimately connect with a potential new vehicle. Beyond the captivating exterior and enticing features, the test drive offers a golden opportunity to assess if the vehicle truly aligns with your needs and desires. To extract the most valuable information, asking specific questions during the test drive is key. Check out our guide to what to ask during a test drive below! And learn more about questions to ask during a test drive at Ray Chevy Fox Lake today! 
Maintenance and Longevity: Navigating Ownership Costs
What is the recommended maintenance schedule for this vehicle?

Are there any specific maintenance requirements for hybrid or electric models?

What are the estimated costs for routine maintenance like oil changes, brake pad replacements, and tire rotations?

How long is the manufacturer's warranty, and what does it cover?

Are there any extended warranty options available for added peace of mind?
Buying vs. Leasing: Tailoring Ownership to Your Needs
Can you explain the benefits of buying versus leasing this vehicle?

What are the lease terms, including mileage limits and end-of-lease fees?

Are there any incentives or special offers for buying or leasing this specific model?

What are the interest rates and loan terms for financing?

How do the long-term costs differ between buying and leasing?
Fuel Efficiency and Economy: Navigating the Pump and the Planet
What is the estimated miles per gallon (MPG) for city and highway driving?

Does the vehicle offer different driving modes that optimize fuel efficiency?

Are there hybrid or electric variants available, and if so, what is their electric range?

What charging infrastructure is available for electric models?

How does the vehicle's fuel efficiency compare to similar models in its class?
Interior Comfort and Technology: Designing Your Driving Space
What are the available seating configurations and materials?

Are there features like smartphone integration, wireless charging, and a premium sound system?

Can you explain the driver-assistance and safety features available?

How does the interior design and comfort compare to other models in its category?
Performance and Handling: Evaluating the Driving Experience
What is the horsepower and torque output of the engine?

Does the vehicle offer different driving modes that adjust performance characteristics?

How does the vehicle handle acceleration, braking, and cornering?

Can you explain any advanced suspension or handling technologies?

How does this vehicle's performance compare to competitors in terms of power and handling?
Making the Test Drive Count
Your test drive is your moment to uncover the hidden details that can make or break your relationship with a new vehicle. By asking these specific test drive questions, you not only gather crucial information about maintenance, ownership options, fuel efficiency, interior comfort, and performance, but you also gain insights into how well the vehicle fits into your lifestyle. Remember, it's not just about driving the car; it's about imagining your daily life with it. So, seize the opportunity to ask the Chevy test drive FAQs, gather the necessary insights, and confidently make a choice that's aligned with your driving needs and aspirations.
Visit Ray Chevrolet! 
Looking for Chevy dealers near me? At Ray Fox Lake Chevrolet, we are a family-owned and operated Chevrolet dealer that has been serving residents in Lake and McHenry County for over 40 years. Located on US-12, we are a short driving distance away from each town we serve including McHenry, Chicago, Milwaukee, WI and Elkhorn, WI. As your local Fox Lake Chevy dealer, we pride ourselves on offering the highest level of service and the best experience any customer could ask for at a Chevy dealership in Fox Lake, IL. Visit our Fox Lake Chevy dealer today for your Chevy test drive!