Chevy Corvette Interior Turns Heads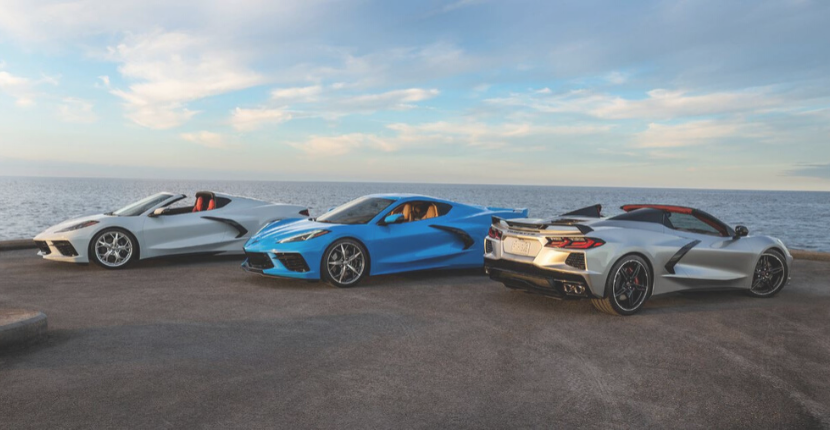 The Chevy Corvette has been news because of the switch to a mid-engine for the 2020 model year. Now, this same Corvette C8 is getting attention for its unique interior. Learn more about the performance and the interior of the Chevy Corvette below.
Performance
The Chevy Corvette has always had its engine under the hood. For 2020, designers moved the engine back to the middle of the vehicle to offer even more incredible performance. This mid-engine is a 6.2-liter V8 engine that gives you up to 495-horsepower and 470 pound-feet of torque. It has a top speed of 194 miles per hour, and it has multiple drive modes so that you can make the most of your performance.
Much of the focus for the new mid-engined 2020 Chevy Corvette was the engine and the performance. Those factors are extremely important, especially as they mark a big change in the Corvette. However, the engine placement and performance were not the only changes made to the 2020 Chevy Corvette C8. In fact, the entire interior was redesigned because of the new engine placement. Let's check out more about that interior below.
Interior
The interior of the Corvette C8 has an LCD screen behind the steering wheel to show vehicle information, and it also has an entertainment system in the center of the dashboard. This infotainment system is the Chevrolet Infotainment 3 Plus with an 8-inch touchscreen, a 10-speaker premium Bose sound system, Apple CarPlay, Android Auto, and more. However, the interior of this vehicle has some unique design choices like the vertical strip of buttons that go down the center console from the infotainment screen.
Why is the interior of the 2020 Chevy Corvette so different? GearPatrol.com talked with the interior design manager Tristan Murphy, and he had this to say, ""The whole point of [getting] that engine behind you is it allows you to have a much lower cowl…you no longer have to sit above the engine, and you can get these really great sightlines," Murphy said. "And that's what a mid-engine car does. The last thing we want to do was have this amazing down vision, then have this typical tall instrument panel. It was about, how do we change the game and how do we reconstruct a dashboard here to be as low and as thin as possible? That was the mission statement of the whole car."
As you can see, the 2020 Chevy Corvette is unique in its impressive performance and its interior. This vehicle clearly has a lot to offer you, and you will have a very one-of-a-kind interior style when you choose the 2020 Chevy Corvette. Do you want to check out a Chevy Corvette for yourself? Reach out to us at Ray Chevrolet to learn more.