2022 Bolt EUV Is Unlike Any Other Electric Vehicle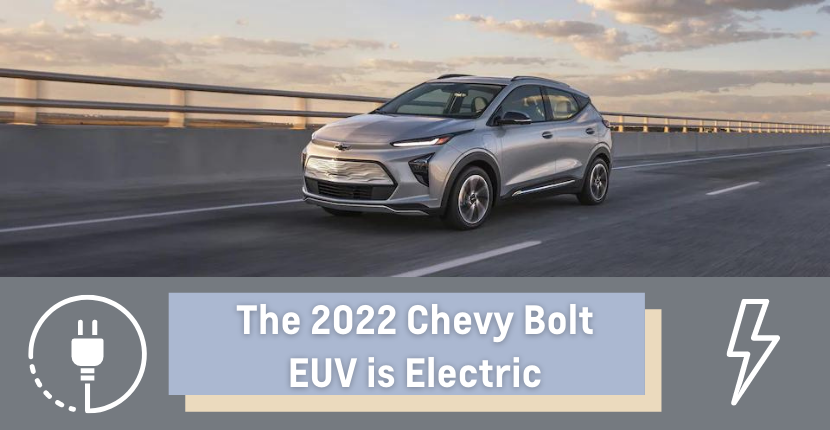 What does an all-electric future look like? It looks sleek, with bold styling that gives way to a roomy, refined interior. It looks bright, with an illuminated charge port for convenience and flair. The all-electric future looks like the New Bolt EUV. And it's here today. Check out the 2022 Chevy Bolt EUV at a Chevrolet Dealer Near Me now! 
Introducing the New Bolt EUV 
A compact SUV, the new Bolt EUV includes GM's hands-free Super Cruise system and can travel up to 250 miles after a full charge. The Bolt first hit Chevy dealers in Summer 2021, but the 2022 Bolt is hitting the market with a splash. Made for every driver, the Chevy Bolt EUV price starts at just $33,000. 
A compact SUV made with style and comfort in mind, the Bolt EUV seats 5 passengers with enough space to go around. It features an impressive 39.1 inches of rear-seat leg room, as well as heated and ventilated front seats for maximum comfort.
Exciting Features 
With the upgraded technology available in the EUV, you can make a quick connection to your music, weather, contacts, and more. Standard wireless Apple CarPlay and Android Auto connectivity, as well as wireless device charging and driver display screens mean the only thing you'll be plugging in is the vehicle itself. Even better, the Bolt EUV has an incredible EPA-estimated 247 mile electric range on a full charge. This is just one reason why the Bolt EUV is unlike any other electric vehicle on the market. 
The Bolt EUV Makes Charging Easy 
With the 2022 Bolt EUV, charging your vehicle is as simple as plugging in your smartphone. Whether it's starting your day with a full charge or utilizing a network of over 40,000 public stations, Chevrolet provides the tools to ensure a convenient experience. A standard Dual Level Charge Cord features a changeable plug, giving you a choice between level 1 and level 2 charging. And with an available illuminated charge port, you can light up where you plug in for added convenience and style.
What Sets the Bolt EUV Apart
With many manufacturers releasing electric vehicles now or in the near future, Chevrolet added one feature in particular to the new Bolt EUV that sets it apart from other models. It's hands-free driving technology. Only used for Cadillac vehicles thus far, the General Motors hands-free Super Cruise driving system comes with the Bolt EUV. 
Super Cruise uses facial recognition technology to identify if the driver is paying attention, eliminating the need for them to touch the steering wheel while driving. The Super Cruise system can be utilized on more than 200,000 miles of highways and freeways in the United States and Canada. For these roads, the system utilizes cameras, radars, sensors, and map data to travel safely and conveniently. 
Check out the 2022 Bolt EUV at Ray Chevy Fox Lake!
At Ray Chevrolet Fox Lake, IL, we have a wide selection of new and used Chevys for sale, including the new Bolt EUV. Visit us to learn more about what makes the Bolt EUV unlike any other electric vehicle or schedule a test drive today!