How Much Can You Fit in the 2021 Chevy Spark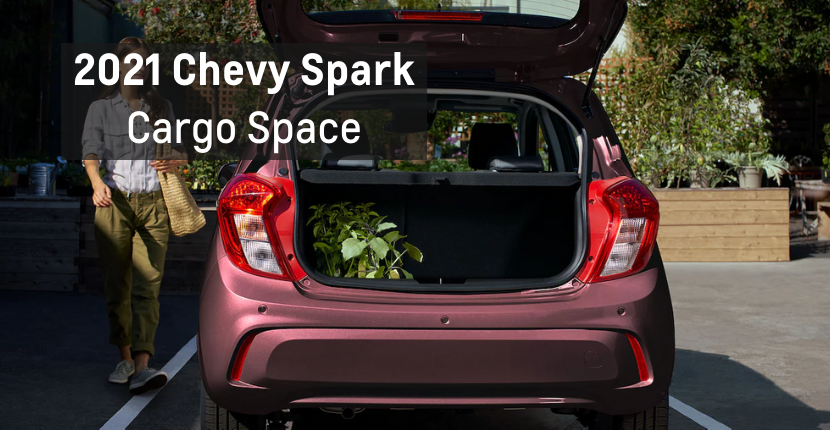 Looking for an inexpensive vehicle that delivers quality, functionality, and plenty of space? The 2021 Chevy Spark is an excellent choice. The Spark is officially the most affordable light passenger vehicle available on the market. It's price range starts at just $14,395 (taxes included) and is now available at your local Chevrolet dealer. Now is the time to check out Chevy Spark lease options! 
Spacious Interior 
With space for four passengers, the 2021 Chevy Spark has plenty of interior space. Up front, you'll have 41.7 inches of legroom with 33.0 inches of legroom in the back seat. Great for quick trips, the Spark includes 11.1 cubic feet of cargo capacity. It expands though to 27.2 cubic feet of cargo space with the back bench folded down. 
Plentiful Cargo Space 
The Chevy Spark, a subcompact car, features an impressive 11.1 cubic feet of cargo space behind its rear seating. With the second row of seating folded down, you'll have even more space with a cargo capacity of 27.2 cubic feet. This gives you plenty of room to fit all of your work or travel cargo as the space fits up to 15 bags total. 
Performance and Fuel Efficiency 
The 2021 Spark comes standard with a 1.4-liter I-4 engine, which produces 98 horsepower and 94 lb.-ft. of torque. Light-weight, the Spark is quick and agile on the road. It comes standard with a five-speed manual transmission, and customers can upgrade to a CVT automatic transmission. Combining great value with excellent fuel efficiency, the Chevy Spark mpg fuel economy is 29 mpg city and 37 mpg highway (while the automatic produces 30 mpg city and 38 mpg highway fuel economy). 
Safety and Technology
The 2021 Spark has some of Chevy's best safety features available for customers. These include automatic emergency braking, forward collision alert, and lane departure warning, which are available on the 2LT trim level with the CVT automatic transmission. 
In terms of technology, the Spark has impressive features. A 7.0-inch touchscreen Infotainment System and connectivity to Apple CarPlay and Android Auto are standard on the vehicle. Customers can also add four-speaker audio with the LS model or a six-speaker system on higher trim levels. 
New Additions to the 2021 Spark 
While the 2021 Spark will remain largely consistent with previous models, the new model will have additional exterior paint color options. Now, customers can also select their new vehicle in Cayenne Orange Metallic or Mystic Blue Metallic for an extra cost, along with the previously available color options. 
Chevy Dealer Near You
Searching for a "Chevy dealer near me"? At Ray Chevrolet Fox Lake, IL, we have an extensive selection of new and used vehicles for all of your driving needs. Visit us to learn more about the excellent value of the 2021 Chevy Spark or schedule a test drive today!