Chevrolet Pushing Into Electric Future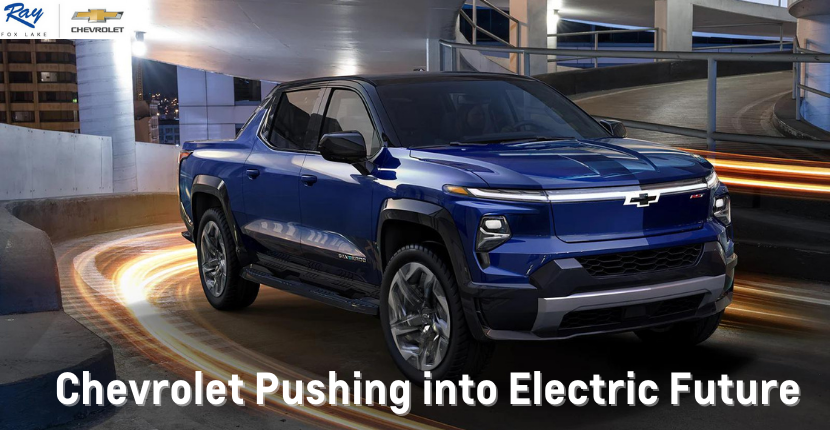 As the automotive industry looks to the future with electric vehicles, Chevrolet is leading the way with all-electric models of some of its most popular vehicles—the Chevrolet Silverado, Blazer, and Equinox will all receive electric models. With both an electric pickup and two SUVs in the Chevrolet 2022 lineup, Chevrolet is bringing its vision of an all-electric future to fruition. Check out the Chevy EVs now at Ray Chevrolet! 
Introducing the First-Ever All-Electric Chevy Pickup
Charge up your imagination with Chevrolet's first-ever all-electric Silverado pickup. Smart, agile, aerodynamic, and fast — not typically what you think of when you think of a truck. That's because the Silverado EV isn't just a truck. It's a category-defying, boundary-breaking game-changer that can be what you need and want it to be. The Silverado EV was built from the ground up to change the world. 
With the Silverado EV, you can say hello to the open road with an available GM-estimated range of 400 miles on a full charge. It produces over 660 horsepower and over 780 lb.-ft. of torque with wide-open watts. You can go from 0 to 60 mph in just 4.5 seconds. The open road is waiting. Get your electric Silverado now. 
All-Electric Bolt EV 
With limitless, seamless technology, the all-Electric 2022 Chevy Bolt EV maximizes efficiency using real-time information, offers wireless phone capability, and provides a driver information center with battery range to driving history data. Starting at $31,500, the Bolt EV means electric for everyone. It has an EPA-estimated 259 miles electric range on a full charge and makes driving fun by reaching 0-60 in 6.5 seconds. 
An All-New Electric Equinox 
Starting at an estimated MSRP of around $30,000 in the U.S., the Equinox EV is an affordable, functional compact SUV. Coming in Fall 2023 will be launched with both fleet and retail versions, including LT and RS trims, and will leverage GM's Ultrium Platform. 
Steve Hill, Vice President of Chevrolet, said, "The Equinox has always played an important role for Chevrolet as the second-highest selling brand nameplate. Providing an affordable EV option in the industry's highest-volume segment proves Chevy is going to make EVs available to everyone."
More Electric Vehicles to Come 
Aligning with their vision of an all-electric future, Chevrolet has also confirmed more electric versions of their most popular models are still to come. While Chevrolet hasn't released any details yet, the brand has laid out its plan for the Blazer EV SUV, expected to be available in Spring 2023. 
Visit Ray Chevrolet! 
Looking for a Chevy dealer near me? At Ray Chevrolet, we are a family-owned and operated Chevrolet dealer that has been serving residents in Lake and McHenry County for over 40 years. Located on US-12, we are a short driving distance away from each town we serve including McHenry, Chicago, Milwaukee, WI, and Elkhorn, WI. As your local Chevy dealer, we pride ourselves on offering the highest level of service and the best experience any customer could ask for at a Chevy dealership in Fox Lake, IL. Visit us to join the all-electric future now!