Skyhawks Raffle Kickoff!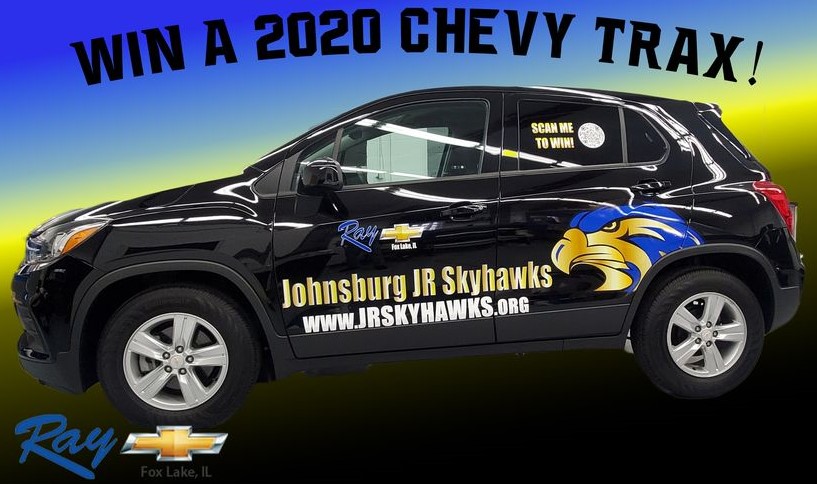 Ray Chevrolet, in partnership with the Johnsburg Jr. Skyhawks, is raffling off a 2020 Chevy Trax! Raising Money to help support a great organization and a great cause. Raffle tickets are $100 each, Ray and the JR Skyhawks are hoping to sell 500 of them! 
Events where you can buy Raffle tickets
 9th Annual Steak Fry 8/13
 JHS Football Game vs. Woodstock North 8/27
 JHS Football Game vs. Rochelle 9/10
 Saufen und Spiel 9/11
 JHS Football Game vs. Sandwich 9/24
 JHS Football Game vs. Woodstock 10/15
 JHS Football Game vs. Harvard 10/22
All Jr. Skyhawk games are events you can purchase raffle tickets at! As well as at other Jr. Skyhawks Events like the 9th annual fish fry this weekend! 
The Jr. Skyhawks
The Johnsburg Jr. Skyhawks is a youth football organization that strives to teach children valuable life lessons through competition in sport. Sportsmanship, teamwork, responsibility, and the value of commitment are just a few lessons emphasized by the Jr. Skyhawks organization! 
Visit Ray Chevrolet! 
Ray Chevrolet is honored to be able to partner with organizations like Jr. Skyhawks and continually be able to help improve our community! Visit Ray Chevrolet today at 39 US-12, Fox Lake, IL 60020. We can help you find your dream car as your fox lake car dealer!