Everything We Know: 2025 Corvette SUV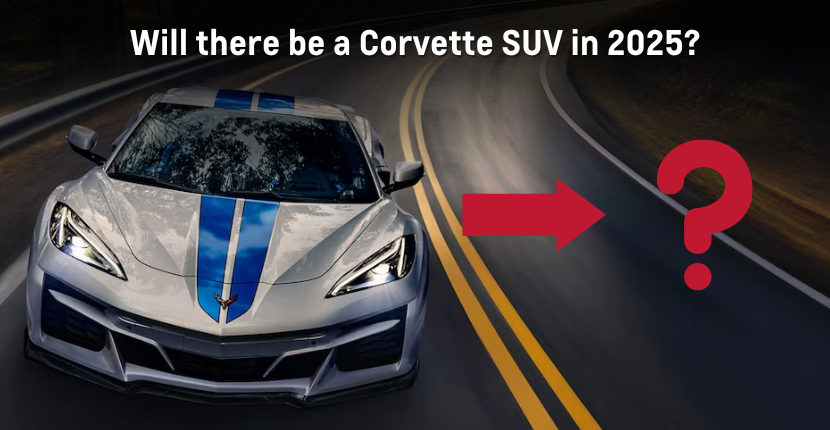 There's some exciting news for Corvette fans! The latest news is that a Corvette SUV could be coming to the American automotive market soon. As Chevrolet transitions to an all-electric future, it will debut EV versions of its most popular models, like the Silverado EV, Equinox EV, and Blazer EV. Chevrolet has a vision for an all-electric future. That's why Chevrolet is committed to putting every driver in an electric vehicle on a scale previously unseen and bringing the world to an all-electric future. Stop in to Ray Chevrolet Fox Lake to check out Chevy's all-electric future today! 
What We Know So Far 
So, will there be a Corvette SUV? Our early reveal indicates yes! The Chevrolet Corvette SUV is expected to be one of three Corvette EVs. Reports indicate that it is likely to be a five-seat model developed for young customers. Although details are subject to change as the design is not complete yet, it is expected to be based on an EV-exclusive platform that offers space & efficiency benefits. The 2025 Corvette SUV is still in the early stages of production. That means there's still a lot we don't know, like the Chevy Corvette SUV price and Chevrolet Corvette release date. 
Outfitted on the Ultium Platform 
General Motors' all-new modular Ultium Platform will be the heartbeat of Chevy's all-electric future. That's why the Corvette SUV is expected to be outfitted with Ultium. Thanks to Ultium's pouch cell design, it will easily accommodate a wide range of EV styles and sizes. Ultium gives Chevrolet electric vehicles range, power, and flexibility for all. 
The GM Ultium Platform is the foundation of a modular, flexible EV lineup. It features modular battery and drive unit combinations. Designed to make electric for everyone, Ultium is flexible enough to build a wide range of trucks, SUVs, crossovers, cars, and commercial vehicles with outstanding design, performance, range, and affordability. It first debuted on the all-new Chevy electric truck, the Silverado EV!
Other Corvette Electric Models 
After 70 years and eight generations, there's been nothing else like it. The Corvette has been innovated upon time and time again. And now, it's been electrified for the first time with an e-AWD system that works in tandem with its LT2 V8 engine to give it the fastest 0 to 60 time ever for this legendary nameplate. But this latest Corvette isn't made simply for performance. With standard all-season tires and Magnetic Selective Ride Control, the 2024 Corvette E-Ray made for all-season touring too.
The Chevrolet Corvette E-Ray premiered at the 2023 Chicago Auto Show, where attendees received a special exclusive look at the new electric sports car. It will launch in 2024, but the specific Corvette E-Ray release date is still unknown. The Corvette E-Ray price starts at just $102,900, and it's seated as the luxury model in the Chevy electric car lineup. 
Visit Ray Chevrolet! 
Looking for a Chevy dealer near me? At Ray Chevrolet, we are a family-owned and operated Chevrolet dealer that has been serving residents in Lake and McHenry County for over 40 years. Located on US-12, we are a short driving distance away from each town we serve including McHenry, Chicago, Milwaukee, WI and Elkhorn, WI. As your local Fox Lake Chevrolet, we pride ourselves on offering the highest level of service and the best experience any customer could ask for at a Chevy dealership in Fox Lake, IL. Visit us to check out Chevrolet EVs for yourself!