Don't Miss Our 2023 Save-A-Pet Day Fundraiser!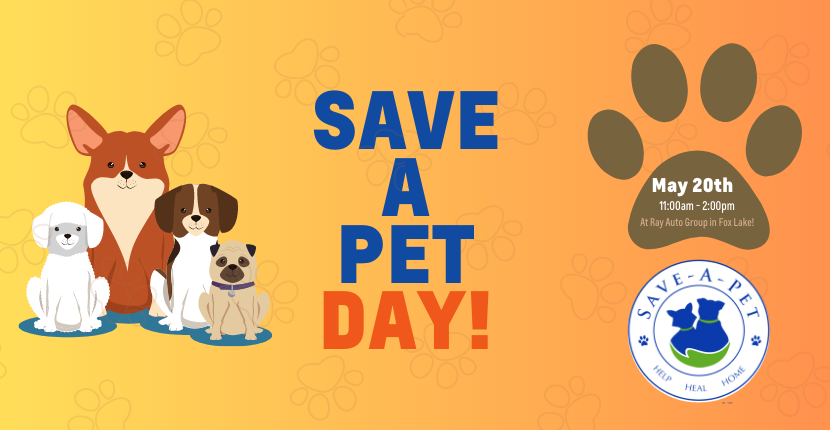 Ray Chevrolet in Fox Lake, Illinois is proud to serve the towns of McHenry, Round Lake, Ingleside, Wauconda, and Antioch. We at Ray Auto Group believe that giving back has a big impact on the communities we serve. We are looking forward to our upcoming event with Save-A-Pet, a nonprofit organization that rescues animals in need. Join us at Ray Chrysler Dodge Jeep Ram in Fox Lake, IL on Saturday, May 20th, at 11 a.m. to commemorate Save-A-Pet Day. Visit Ray Chevrolet, your Fox Lake Chevy dealer, to learn more about this upcoming occasion!
Save-A-Pet Organization
Save-A-Pet is a 501(c)3 nonprofit that operates a full-time adoption center and is one of the biggest no-kill cat and dog rescues in Lake County. It offers a safe haven for animals who have experienced abuse, neglection, gone missing, or escaped euthanasia. Save-A-Pet animal shelter makes sure to never give up on an animal and does everything in its power to find them a home. Save-A-Pet has helped over 66,000 animals by giving them a second chance at life.

Jeeps on The Run Go Topless Day
The day will begin at 10:00 AM at Save-A-Pet animal shelter in Grayslake, where you are welcomed to join us as we remove the tops from our Jeeps and drive to the dealership in an assembly. Jeeps on the Run Topless Day and Save-A-Pet Day are being combined to demonstrate our support for this excellent charity and to raise awareness for this organization. In honor of this special occasion, we will all come together to support Save-A-Pet at Ray CDJR while we show off some Jeep pride. To arrive at the dealership by 11 AM, we aim to leave Save-A-Pet at 10:30 AM.
Save-A-Pet Day Details
This Saturday at Ray Chrysler Dodge Jeep Ram in Fox Lake, Illinois, the Ray Auto Group will be hosting our Save-A-Pet Day fundraiser. Join us at our Fox Lake dealership from 11 AM to 2 PM for this fantastic fundraising event. Wondering what to expect this Saturday? There will be lots of loving animals from Save-A-Pet animal shelter, that are looking for homes and their life long friend at the event. Which furry friend will you choose to adopt? While admiring the array of Jeeps on display from our friends at Jeeps on the Run, we will eat lunch from Pixie Dawgs. Because WXLC Live will also be there, don't miss it. Bring your four-legged family member along, too!
Visit Ray Chevrolet
Are you searching for a Chevrolet dealer near me? Ray Chevrolet is a family-owned Fox Lake dealership that provides a large selection of new and used Chevys for sale Fox Lake, IL. We're ready to assist in getting you into the car of your dreams. Visit our Facebook page to find out more about Fox Lake community events or to find out how you can help make a difference at Save-A-Pet today. We look forward to seeing you at Ray Auto Group Fox Lake this Saturday, May 20th!