What's New for Ray Chevrolet & The Community?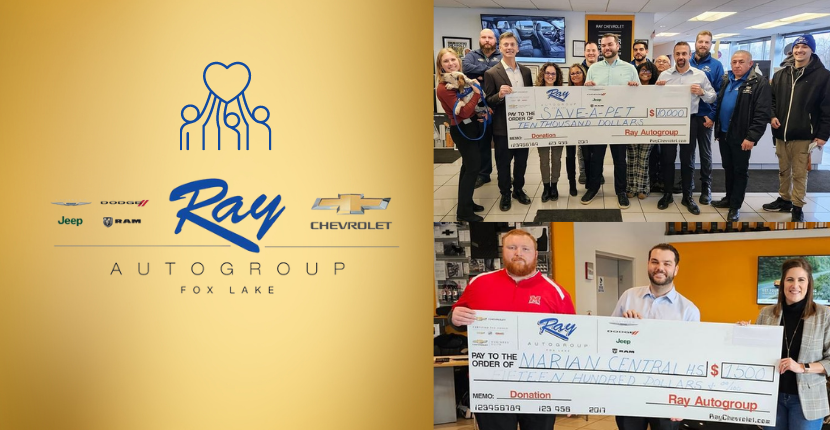 Since 1953, Ray Chevrolet has been serving the community. We have taken great pride in working with Fox Lake and the surrounding area as a family-owned and operated dealership. The reputation we've built as an honest and reliable dealership is something we're proud of, and we look forward to maintaining it with our Ray Chevrolet Community news. Through our support of a variety of causes and organizations, we have been able to help the surrounding communities. Ray Auto Group would like to highlight some recent organizations we have been helping out such as the "Big Play Program" and Save-A-Pet. 
Big Play Program
At Ray Auto Group, we love to give back to the Fox Lake community by helping out schools around the area. We made a donation on March 1st, 2023 to Marian Central Catholic High School in Woodstock, IL. This is just a small portion of our "Big Play Program".  Part of our support here at Ray Chevrolet Fox Lake is giving back to the community is in helping the local schools.

What is Save-A-Pet?
Ray Auto Group would like to highlight a recent organization that we started sponsoring back in January 2023, called Save-A-Pet. Save-A-Pet is a 501(c)3 nonprofit organization and one of the largest no-kill cat and dog rescues in Lake County that operates a full-time adoption center. This organization provides a safe haven for abused, neglected, injured, lost, or animals that have escaped euthanasia. This organization will never put a limit on the amount of care we will provide for an animal and we never give up on them. Thus, Save-A-Pet offers rescued dogs and cats the greatest opportunity for a second chance. The Save-A-Pet organization has three main goals: rescue, rehabilitate, and rehome. With donations from generous people like you, this organization has helped over 66,000 animals have a second chance at life! Make a difference in the life of an animal by teaming up with us and donating today.

Together We Can Make a Difference
Ray Chevrolet Fox Lake is proud to be a part of the community. By becoming a "Benefactor Sponsor" for Save-A-Pet, we have committed our support to the Save-A-Pet animal shelter. This is Save-A-Pet's most prestigious sponsor available. We are looking forward to making a difference in the lives of these animals. Stay tuned as we will have many more updates regarding events and other collaborative fundraisers with Ray Chevrolet and the community.
Visit Ray Chevrolet Fox Lake!
Ray Auto Group is proud to help local schools out in the community and support great organizations like Save-A-Pet. As the 2023 Benefactor Sponsor for Save-A-Pet, we hope to make a difference in our furry friends' lives. We are looking forward to continuing our journey in helping this great cause. If you are looking for more information or would like to donate to Save-A-Pet, check out their Facebook page here. Visit us at our Fox Lake Chevrolet dealership to learn more! We're proud to be your Chevrolet dealer Fox Lake located at 39 US-12 in Fox Lake, IL.