Join Us for the Ray Auto Group Blood Drive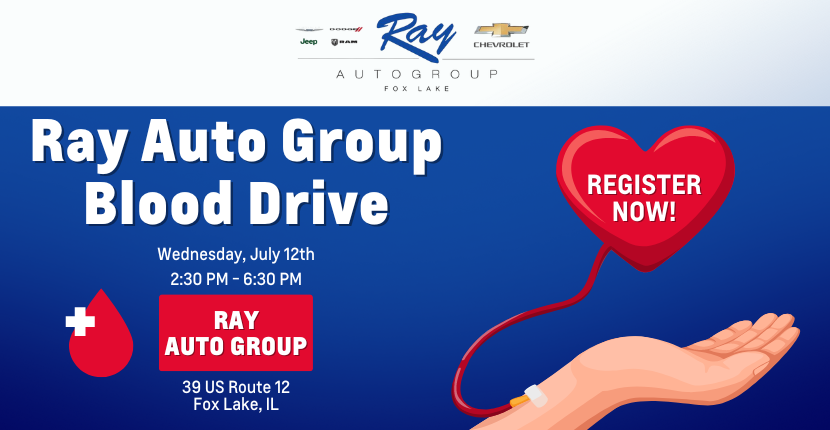 Come to the Ray Auto Group Blood Drive on Wednesday, July 12th. We love bringing events to our community for you all to enjoy, now we ask for a little help from you! Next week, the Ray Auto Group community will be coming together at Ray Chevrolet to help save lives. We are proud to be in partnership with Versiti and be a part of this great cause. Everybody has the chance to spend their day doing something amazing thanks to this event, which has grown to be an established tradition in the Ray Chevrolet neighborhood! Consider registering for a time slot here! Learn more below.
About Versiti
Versiti is an organization whose mission is to make the world a better place. This organization is continuously arranging numerous blood drives with groups like Ray Auto Group to help save the lives of others. They are also actively performing research and testing to help make everyone's lives safer. If you want to help Versiti make a difference, you can find them here. By helping this organization out, your one donation saves 3 lives!
Ray Auto Group Community
Events like this have become a staple in the Ray Chevrolet Community, and we are proud to be your Fox Lake dealership. Additionally, we are proud to routinely sponsor charitable events of many kinds, and there are many chances to become involved with the community. Visit our Ray Chevrolet Facebook page to learn about upcoming events and how you can participate. Ray Chevrolet will keep holding events and working to make a difference in the world with your help. We hope to see you next week at the Ray Auto Group Blood Drive!

Where to RSVP
We hope to see you at this year's Ray Auto Group Blood Drive at our Fox Lake dealership. We are proud to be your Chevy dealer near me and we are excited to help save lives next week! If you are looking for more information or would like to RSVP, check out our Facebook page here.
The Blood Drive is happening from 2:30 PM – 6:30 PM at our Ray Chevrolet dealership! We're located at 39 US-12 in Fox Lake, IL.