2023 Chevy Equinox vs. 2022 Chevy Equinox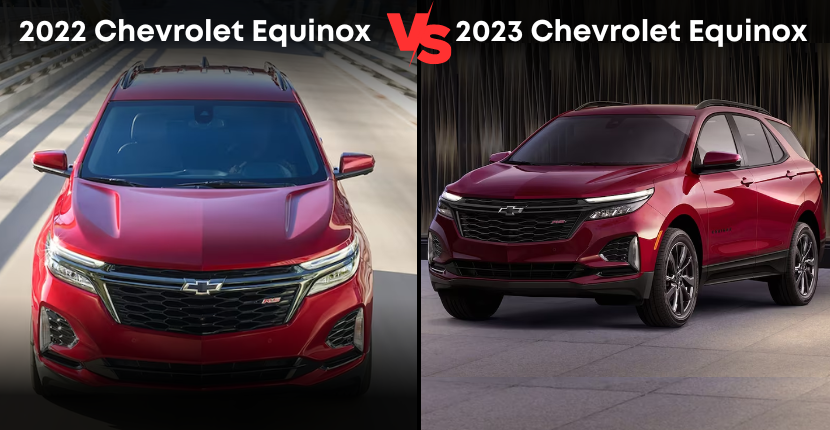 Although the changes between the 2023 and 2022 Chevrolet Equinox may be subtle, they contribute to an improved driving experience, enhanced personalization options, and advanced safety features. With increased horsepower, new exterior paint choices, special editions, and an electronically boosted braking system, the 2023 Equinox continues to offer reliability and versatility for Chevy drivers. Plus, the 2023 Chevy Equinox price starts at just $26,300. Learn more about the differences between 2022 vs. 2023 Chevy Equinox now at Ray Chevy Fox Lake! 
Performance: Power Boosted for Added Confidence
Under the hood, the 2023 Equinox retains the Chevy Equinox 2022's 1.5L turbocharged four-cylinder engine from the previous model. However, Chevrolet has fine-tuned the performance, increasing the horsepower from 170 to 175. Paired with the smooth six-speed automatic transmission, this boost in power provides drivers with a more exhilarating driving experience. The standard drivetrain remains front-wheel drive (FWD), while all-wheel drive (AWD) is available as an option for added traction and control.
Exterior & Interior Features: Personalize Your Equinox
While the 2023 Chevy Equinox interior features remain unchanged, Chevrolet offers exciting new options for exterior customization. There are three new exterior 2023 Chevy Equinox colors, expanding the palette to a total of eight choices. Additionally, for those seeking a more distinctive look, Chevrolet has introduced two special editions: Sport and Midnight. These editions provide visual upgrades to the base LS trim, allowing owners to stand out on the road with unique styling cues.
Safety Features: Enhanced Stopping Power and Driver-Assistance
Chevrolet has taken safety to the next level in the 2023 Equinox. One notable improvement is the implementation of an electronically boosted braking system known as "E-boost." This advanced system enhances the stopping potential of the Equinox, replacing the traditional vacuum-based brake system. With E-boost, drivers can feel even safer and more confident on the road.
The 2023 Equinox also carries over the standard driver-assistance features from its predecessor. Automatic Emergency Braking with Pedestrian Detection, which helps prevent frontal collisions, continues to be a standard feature. Additionally, the vehicle offers Adaptive Cruise Control on select trims, providing convenient and stress-free driving experiences.
Visit Ray Chevrolet! 
Looking for Chevy dealers near me? At Ray Chevrolet, we are a family-owned and operated Chevrolet dealer that has been serving residents in Lake and McHenry County for over 40 years. Located on US-12, we are a short driving distance away from each town we serve including McHenry, Chicago, Milwaukee, WI and Elkhorn, WI. As your local Fox Lake Chevrolet, we pride ourselves on offering the highest level of service and the best experience any customer could ask for at a Chevy dealership in Fox Lake, IL. Visit us for your next 2023 Chevrolet Equinox for sale today!