Chevy Extends First Responder Discount to Healthcare Professionals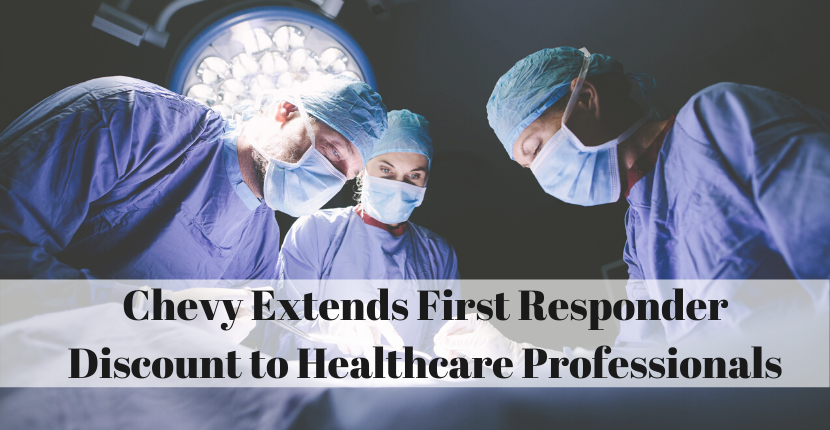 Right now, Chevy has a first responder discount that offers our heroes a discount on vehicle purchases and leases. These first responders can also get discounts on OnStar services. However, with the current pandemic, Chevy is extending this discount to include the healthcare professionals that are working so hard to help with the COVID-19 crisis. Now, healthcare professionals like doctors, nurses, and more can also receive this discount. This is just one way we are working to give back to those that are working so hard for us. Below, you can learn more about the discount and how it works.
What are the Discounts Healthcare Professionals Can Get?
With this first responder and healthcare professional discount, eligible people can get special discounts on OnStar services and select GM vehicles. The exact vehicle discounts depend on the vehicle itself, but you can check out what these discounts look like online. Check out some of the discounts you can get on your favorite GM vehicles here. You can also receive 15% off OnStar services plans that give you things like Roadside Assistance, Emergency Services, Automatic Crash Response, Stolen Vehicle Assistance, and more.
How Does This First Responder and Healthcare Professional Discount Work?
You have to currently work as a Firefighter, Police Officer, EMT/Paramedic, 911 Dispatcher, or Healthcare Professional.
You go online here to confirm your eligibility and get an authorization number.
Bring your authorization number to your local dealership, and purchase or lease your new vehicle.
Enjoy your discount and your new ride, and thank you for all you do from Chevrolet and General Motors!
At Ray Chevrolet, we are looking out for you during this crisis. That is why we are offering discounts to healthcare professionals, first responders, and more. If you have any questions about these discounts or how we can help you with your next vehicle purchase, you can reach out to us at Ray Chevrolet.
We have a great selection of cars, trucks, and SUVs at Ray Chevrolet. If you need a reliable vehicle to get you to your job as a first responder or healthcare professional, we can help you upgrade. Whether you are looking for a truck to help you haul supplies, or you want an all-wheel-drive SUV that will help you get where you need to go during bad weather, we have what you need. Check out our inventory online, or reach out to us with questions.