Which Two Chevy Vehicles Rank at the Top for the Most Efficient Full-Size SUVs?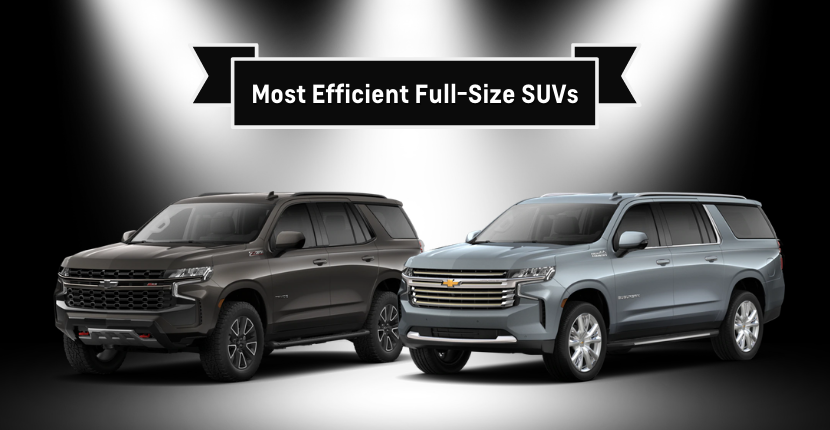 In the 2021 Chevrolet lineup, there are two vehicles that top the others as the most efficient full-size SUVs. The Chevy Tahoe Diesel and the Suburban are rated the most efficient full-size SUVs. Ready for a road trip, the Diesel Tahoe and Suburban offer premium features for a luxury experience for you and your family. 
2021 Chevy Tahoe Fuel Efficiency Numbers 
Equipped with the available 3.0-liter Duramax turbo-diesel engine and rear-wheel drive (RWD), the 2021 Chevy Tahoe diesel mpg is an EPA-estimated 28 highway and 21 city, with a combined 24 mpg fuel efficiency. On the four-wheel drive model (4WD), the Tahoe has an EPA-estimated fuel efficiency of 26 mpg highway and 20 mpg city, with a combined 22 mpg. Fuel efficiency this good on a full-size SUV is almost unheard of, but the Chevy Tahoe Diesel 2021 saves you time and money at the gas pump. It will get you where you need to go quickly and efficiently. 
2021 Chevy Suburban Fuel Efficiency Numbers 
The 2021 Chevy Suburban diesel 3.0-liter engine produces an EPA-rated 21 mpg city and 27 mpg highway fuel efficiency with two-wheel drive (2WD) for a combined effect of 23 mpg. With the 5.3-liter V8 engine, the Suburban has a fuel efficiency rating of 16 mph city and 20 mpg highway for a combined rating of 18 mpg with two-wheel drive. On the four-wheel drive (4WD) model, it offers 15 mpg and 19 mpg highway fuel efficiency. 
At the top trim level, the Suburban High Country gives drivers the full premium experience. With the 6.2-liter V8 engine and 10-speed automatic transmission, this model can reach 60 mph in just 6.1 seconds, an impressive feat for a nearly 6,000 pound full-size SUV. Despite this, it delivers a smooth and comfortable ride. With two wheel drive, the High Country delivers 15 mpg city and 20 mpg highway, while the four-wheel drive model offers a fuel efficiency of 14 mpg city and 19 mpg highway. 
Power and Performance 
As full-size SUVs, the Tahoe and Suburban are also great for drivers needing to haul cargo, whether it's a family boat outing or a cargo carrier for your road trip. The Tahoe diesel has a towing capacity of up to 8,200 pounds and can haul a payload of up to 1,717 pounds. The Suburban, on the other hand, can tow up to 8,000 pounds and haul up to 1,625 pounds. 
Pricing and Availability
The 2021 Chevy Tahoe diesel price adds an extra $995 over the standard 5.3-liter V-8 gas engine and is available on the LS, LT, RST, and Premier trim levels. On the High Country trim level, the Duramax turbo-diesel engine is available for $1,500 less than the trim's standard 6.2-liter V-8 gas engine. 
With a base price of $51,700, the 2021 Suburban offers customers a great value for an impressive and efficient full-size SUV. At the top of the lineup, the Chevy Suburban 2021 High Country model costs $76,595. Both are now available at Chevy dealers nationwide. 
Visit Ray Chevrolet
Searching for a "Chevy dealer near me"? Your search ends here. Ray Chevy is the Chevrolet Fox Lake, IL. Visit us to learn more about the excellent efficiency of the Tahoe and Suburban or schedule a test drive today!