The Silverado Camera Package Makes Life Easier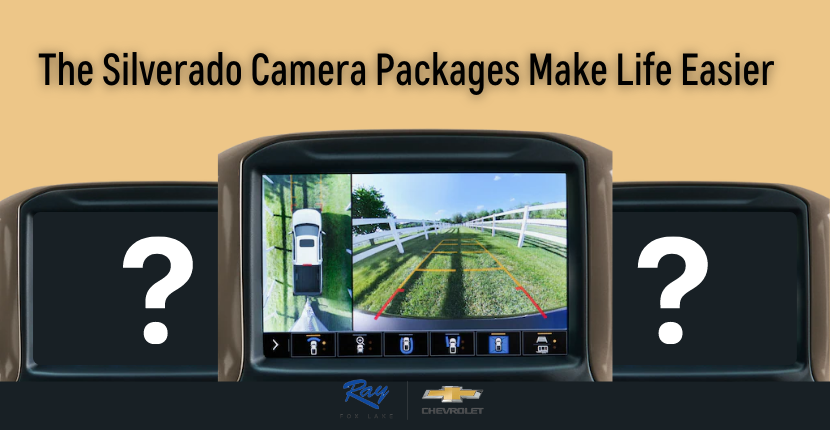 For years now, auto manufacturers have developed cameras to help perpetuate safe driving. Backup cameras for example, have helped drivers exponentially with providing a sightline to prevent accidents. As do many other camera views to eliminate blind spots. When searching for the right vehicle for you, the right camera package should be a deciding factor. Check out the latest camera package featured on the Chevy Silverado from Ray Chevy here.
Camera views make life easier when hitting the road, and the Chevy Silverado may be the perfect choice for you. Chevrolet dealers have advertised the Silverado for its impeccable towing capabilities, but now, it is changing the game offering 8 available cameras that give you up to 15 unique views. Silverado offers additional trailering features like the jack-knife alert, trailer length indicator, and the trailer angle indicator with guidelines, which require a compatible trailer, as well as bed view with cargo bed zoom and bed hitch guidance. All of these are designed to help make your towing job easier from start to finish.
The Silverado camera views consist of:
Hitch View – This provides a close up view of the receiver hitch to help with alignment when connecting to a trailer.
Surround View – Give's a top down bird's eye view of the truck surroundings.
Rear Top-Down View – Shows the clearance between the truck bed and other objects.
Bed View – Allows you to see the cargo bed to ensure all belongings remain safely inside.
In addition to the trailer views offered there are also 6 available driving views. The driver views can see behind the trailer and inside the trailer making for a much more efficient way of traveling. Imagine carrying a cargo of horses and being able to check on them frequently throughout your trip with ease. The review mirror also comes with a camera to efficiently see a wider, less-obstructed view. The transparent view allows you to virtually "see through" the trailer to see the vehicle behind you, an innovative technological advance any Silverado owner would love.
Parking With Ease
Parking is never easy when towing cargo. Now, with 5 parking cameras offering different angles, parking with a trailer will be a breeze.
Bowl View – Provides a rear-facing surround view.
Front Side View – Shows the position of the front tires.
Front Top-Down View – Provides a top-down view of the hood, bumper, and front tires.
Rear Camera View – The Chevy Silverado backup camera displays behind the truck with guidelines to assist with parking.
Rear Side View – Provides a line of sight down each side of the truck, and another view once the turn signal is activated to assist with lane change.
Chevy Dealer Near Me
If you are looking to see the amazing camera package on the Silverado for yourself, head over to Ray Chevrolet Fox Lake. We have the Chevy Silverado for sale as well as many other new and used models. Browse through our Fox Lake Chevrolet inventory and find exactly what you need.