Meet the Scarpelli Family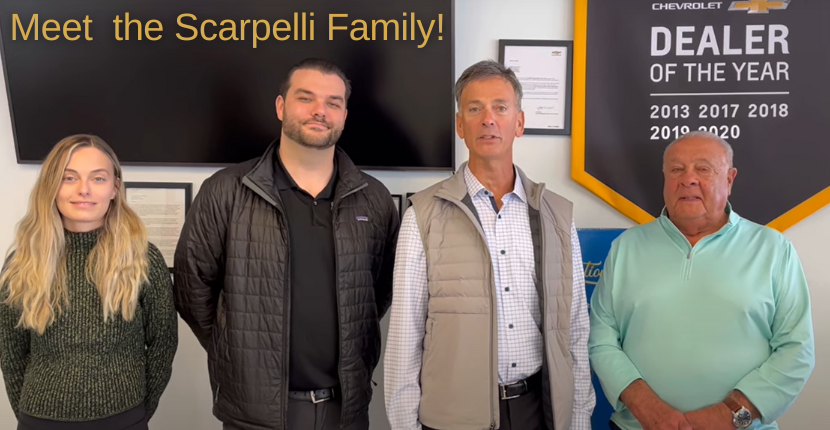 Here at Ray Chevrolet, we are a proud family-owned dealership. Located in Fox Lake, IL, the Scarpelli family has been going above and beyond for customers for over 66 years. Ray Chevrolet is even a five-time winner of General Motors' Dealer of the Year award. We owe all of our success to our entire team at Ray Chevrolet. But we want to give special recognition to all 3 generations of the Scarpelli family- Ray Sr., Ray Scarpelli, son, Ray Junior, and daughter, Samantha.
How Did The Family Business Unfold?
Since a very young age Ray Scarpelli has always had a love for cars. Raymond Scarpelli Sr., had owned a Chevrolet and Oldsmobile store where Ray Scarpelli enjoyed spending all of his time at as a child. As time went on Ray worked various positions at the store. He worked in the service department, as a lot attendant, car washer, and in the body shop. Over the years, Ray studied automotive marketing and management at Northwood University in Midland, Michigan, where he further developed all of the neccesary tools for running a successful dealership. After graduating and working in sales at Raymond Oldsmobile, Ray was able to work his way up through the ranks and become dealer principal at Ray Chevrolet and Ray Chrylser Dodge Jeep RAM, both in Fox Lake, IL. He and his wife got married and had two children, Ray Junior, and Samantha. Both children are now a major part of the dealerships and the next generation to join the family business.
What Makes Us Different?
What really sets our Chevrolet dealership apart from others is the significant role our family plays for the dealership. One of the Scarpelli family members is always on site here at the dealership ready to help our customers. We really have a great personal connection with not only our employees, but also our customers. This major factor is what sets us apart from other Chevy dealerships and makes us who we are today! Ray Chevrolet is a Fox Lake Chevy dealership, that has proudly been serving for over 66 years with the help of our 3 generations of the Scarpelli family that have helped contribute to the legacy. 
Our Goal
Ray Chevrolet's prioritized goal above anything is customer satisfaction! Here at our Fox Lake car dealership, we want to make sure you find the perfect vehicle that you are looking for with no hidden fees. With Rays Price Promise, we guarantee that we will give you upfront pricing and transparents costs on all of our vehicles and services! 
Visit Ray Chevrolet!
At Ray Chevrolet we are not just a Chevy dealership, we are a family. We are proud to be your Fox Lake Chevy dealer and we are pleased with the impact we have made in Lake County and the surrounding counties such as McHenry! Going forward we're here to serve the people in the best possible way that we can and we're here for the long haul! We guarantee that we can provide you with the best service, best deals, and best vehicles that will take you on any journey you can imagine!