Annual Holiday Party Recap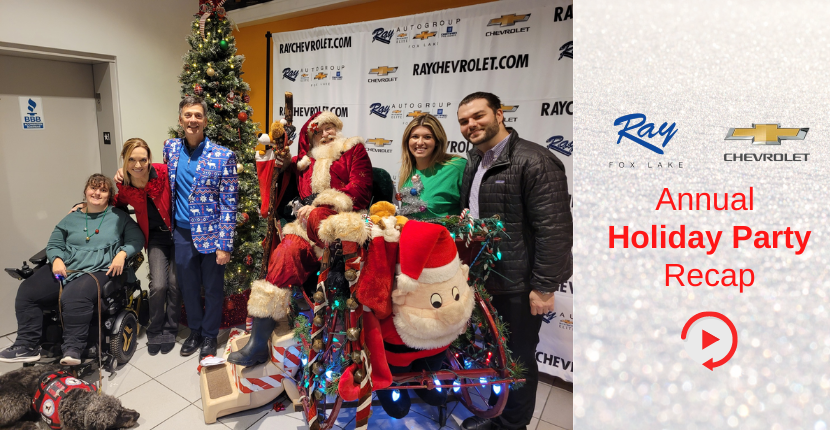 Each year Ray Chevrolet and Ray Chrysler Dodge Jeep Ram come together to celebrate the holidays with the Fox Lake community by throwing a special Holiday Party. This year we hosted our annual Holiday Party on Thursday, December 22nd at Ray Chevrolet in Fox Lake, IL. Ray Auto Group loves giving back to the community, especially around this time of the year. 
Celebrate with Ray Auto Group
At the party, members of the Fox Lake community gathered together at Ray Chevrolet to celebrate the holiday. We hosted about 70 local children and their families at Ray Chevrolet to come to celebrate the holiday with us. We kicked off the evening with a special appearance from Santa Claus! We then took pictures with the special guest, Santa, and enjoyed a dinner together before it was time to start opening gifts. The children later got to shop with a cop to pick out a few more gifts. We love teaming up with the Fox Lake Police Department each year for this amazing holiday event! 
Join Us Next Year at Ray Chevrolet!
We had an amazing evening at the Holiday Party and we can't wait to celebrate with you all again next year. Each child left the party with a full stomach, stockings, and huge smiles. Thank you for joining us for the party at our Fox Lake Chevy dealership, we are proud to be your Chevy dealer near me. The Scarpelli family hopes you had a Happy Holiday and a Happy New Year this season! To learn more about Ray Chevrolet community events, or to join us next year visit Ray Chevrolet in Fox Lake, IL.