Chevy Silverado Maintenance Schedule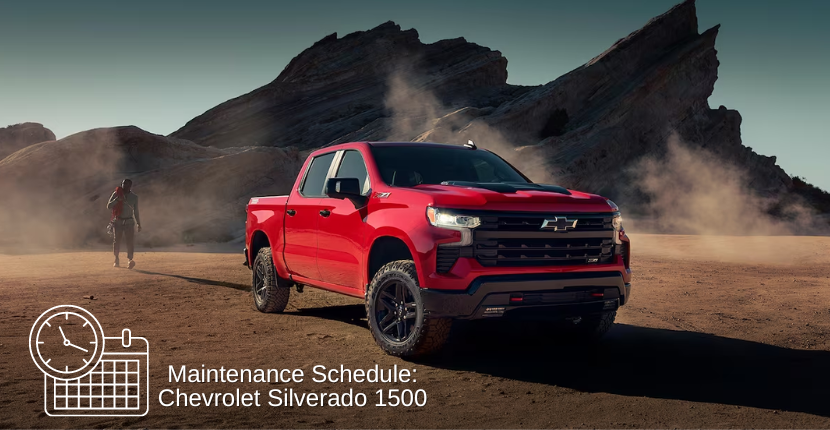 The Chevy Silverado weighs half a ton and boasts of an assortment of excellent powertrain offerings. As one of the most widely respected full-size pickup trucks, the Silverado is packed with amazing features and the capability for all of your truck needs. The Chevy Silverado reliability simply can't be beat. Because it's so reliable, it has a very predictable Chevrolet maintenance schedule. Schedule your Silverado 1500 maintenance appointment at Ray Chevrolet today!
Silverado 1500 Maintenance Schedule
Every 7,500 Miles

: After 7,500 miles, your Silverado needs an oil change and tire rotation. The oil needs to be fully drained and replaced with fresh oil, and the oil filter needs to be replaced so it can effectively filter out contaminants. It is unwise to skip this service because dirty oil or a clogged filter can damage the engine.

After 22,500 Miles

: After 22,500 miles on the roads, it's time to bring your Silverado in for a cabin air filter and fuel filter replacement. 

After 45,000 Miles

: Your Silverado's engine air filter and transmission fluid needs to be replaced at least every 45,000 miles. If you experience poor acceleration or you find yourself fueling up more often, these are signs the engine air filter needs a change. 

After 97,500 Miles

: At 97,500 miles, your spark plugs should be replaced. If you leave the old spark plugs in too long, you'll start to experience rough idling, difficult start-ups, and poor fuel economy.

After 150,000 Miles

: By this point, your Silverado's coolant must be flushed. When the quality of coolant deteriorates, so too does its ability to protect against oxidation-forming rust on the engine components. Additionally, the Silverado's engine accessory belts need to be checked at this point to avoid one of the belts snapping and leading to a breakdown on the road.
Book Your Ray Chevrolet Service Now!
Looking for Chevy maintenance near me? Look no further! At Ray Chevrolet, our service department offers a comprehensive set of tasks performed by our qualified, professional technicians. A number of the maintenance duties efficiently performed by our technicians include new tire installation, brake pad replacement and engine diagnosis. As soon as you complete and send our online service appointment form, one of our pleasant department representatives will be in connection with you at their earliest convenience. 
Plenty of individuals around Grayslake, Crystal Lake, and Gurnee bring us their vehicles or routine servicing as well as for unforeseen repairs. We look forward to serving you. Keep up your mobility by coming to our auto service and repair center at Ray Chevrolet in Fox Lake. Plus, save big with Ray Chevrolet service coupons!
Visit Ray Chevrolet! 
Looking for Fox Lake Chevy dealers? At Ray Chevrolet, we are a family-owned and operated Chevrolet dealer that has been serving residents in Lake and McHenry County for over 40 years. Located on US-12, we are a short driving distance away from each town we serve including McHenry, Chicago, Milwaukee, WI and Elkhorn, WI. As your local Fox Lake Chevrolet, we pride ourselves on offering the highest level of service and the best experience any customer could ask for at a Chevy dealership in Fox Lake, IL. Visit us to learn more about servicing your Chevy Silverado today!