What is the 2024 Chevy Trax Gas Mileage?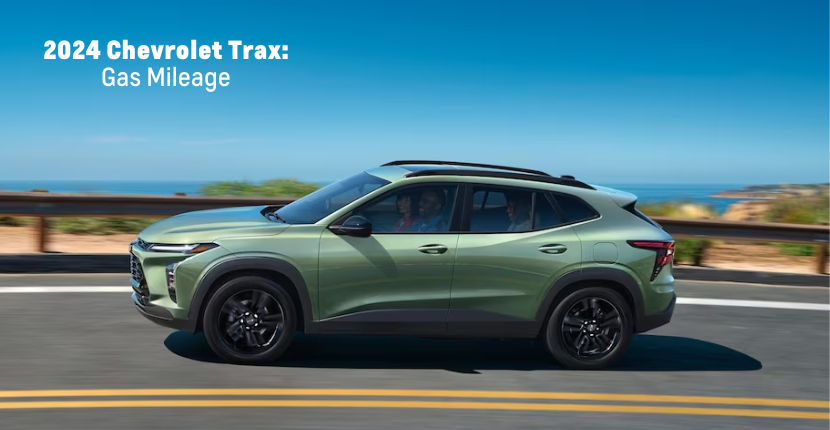 The 2024 Chevrolet Trax has undergone a significant update, emerging as a larger and more striking small SUV. With an 11-inch increase in vehicle width, a total length of 178.6 inches, and an additional 2 inches in width, the Trax exudes a bold and commanding presence on the road. Its enhanced design and improved features make it an irresistible choice for those seeking an exceptional small SUV. Plus, the 2024 Chevy Trax gas mileage is unbeatable. Check it out now at Ray Fox Lake Chevrolet! 
Impressive Fuel Efficiency for an Economical Ride
One of the most notable highlights of the 2024 Chevy Trax is its impressive fuel efficiency. According to the EPA, this small SUV delivers excellent mileage, with an estimated 28 mpg in the city, 32 mpg on the highway, and a combined 30 mpg. In comparison to its predecessor, the 2022 Trax, the 2024 model provides an additional 4 mpg in the city and 3 mpg combined, making it an even more economical choice for daily commuting and long journeys. The highway fuel economy remains consistent at 32 mpg for both generations.
Powering the 2024 Trax is the turbocharged 1.2L I3 LIH gasoline engine, which offers a balance of performance and efficiency. With a power output of 137 horsepower at 5,000 rpm and 162 pound-feet of torque at 2,500 rpm, the Trax ensures a smooth and responsive ride while maximizing fuel economy.
Spaciousness and Convenience Redefined
The new 2024 model stands out not only for its fuel efficiency but also for its enhanced 2024 Chevy Trax interior space and convenient features. With its increased dimensions, including 11 inches of additional width, the Trax provides a roomier cabin and ample cargo capacity. The cargo space offers up to 54.1 cubic feet, accommodating all your storage needs. The 60/40 folding second-row seats further enhance versatility, allowing you to customize the seating and cargo arrangement to suit your requirements. Additionally, the Trax prioritizes passenger comfort with standard active noise cancellation, creating a serene and enjoyable driving experience.
Tech-Savvy Features for a Connected Journey
The 2024 Chevy Trax takes connectivity and entertainment to a whole new level. Equipped with standard wireless Apple CarPlay and Android Auto compatibility, drivers can seamlessly integrate their smartphones and access their favorite apps, music, and navigation on the go. For added convenience, the Trax offers available wireless charging, enabling hassle-free charging of compatible devices. The built-in wireless Wi-Fi hotspot keeps you connected to the digital world, allowing passengers to browse the internet, stream media, or work remotely during your travels. Furthermore, the myChevrolet Mobile App remote technology provides easy access to a range of features and diagnostic resources for a personalized and connected driving experience.
Visit Ray Chevrolet! 
Looking for Chevy dealers near me? At Ray Chevrolet, we are a family-owned and operated Chevrolet dealer that has been serving residents in Lake and McHenry County for over 40 years. Located on US-12, we are a short driving distance away from each town we serve including McHenry, Chicago, Milwaukee, WI and Elkhorn, WI. As your local Fox Lake Chevy dealer, we pride ourselves on offering the highest level of service and the best experience any customer could ask for at a Chevy dealership in Fox Lake, IL. The 2024 Chevy Trax release date is here, and it's available at dealers now. Reserve your 2024 Chevy Trax for sale near me now!