Spring Grove 4th of July with Bella Cain Archives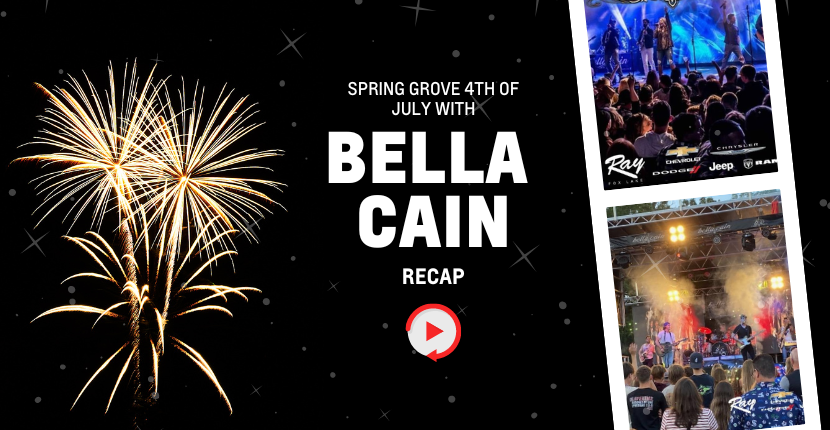 Events are one of our favorite ways to unite the Fox Lake community at Ray Auto Group. In support of Bella Cain during the Spring Grove Fourth of July festivities, Ray Chevrolet is pleased to have served as the title band sponsor. On July 3rd of this year, we all gathered together in Horse Fair Park and got ready for Bella Cain's live performance! Ray Auto Group is pleased to have participated in the Spring Grove Fourth of July Festival once again this year. The Spring Grove 4th of July Festival began in 1976 as a community event celebrating Independence Day, and Ray Auto Group is excited to have been a part of it again this year. Visit our Fox Lake dealership to find out more about future events. Learn more about this event below. 

The Dance Party
Bella Cain returned this year to play during the Fourth of July festivities in Spring Grove, this time in Horse Fair Park. Before the band started playing, the gates opened at 4 o'clock for the community to enjoy some delicious food and enjoy some refreshing drinks. We were thrilled that Spring Grove came out in force! We had a great time singing and dancing to Bella Cain's live music and we thank everyone that came out this year and made it such a great time!


Spring Grove 4th of July Festivities
The following day we all gathered for the Spring Grove 4th of July Parade where we paraded down the street in a display of Jeep vehicles. This year's parade theme was your favorite movie. The parade began at noon in the area of Highview and Winn Roads and proceeded to Horse Fair Park. We had a ton of fun handing out candy, shirts, and  a bunch of ducks, 2,500 to be exact. After the parade was over we all later gathered together to watch fireworks from Thelen Park and celebrate Independence Day!
Join Us Next Year!
Thank you to all who helped make this event amazing and such a memorable day for family and friends! Ray Chevrolet, your Chevy dealer near me, loves being part of the community. To learn more about upcoming Ray Auto Group community events with our or to join us next year, visit Ray Chevrolet, your Fox Lake Chevy dealer today!