Looking for an Inexpensive Car? We've Got the Vehicle for You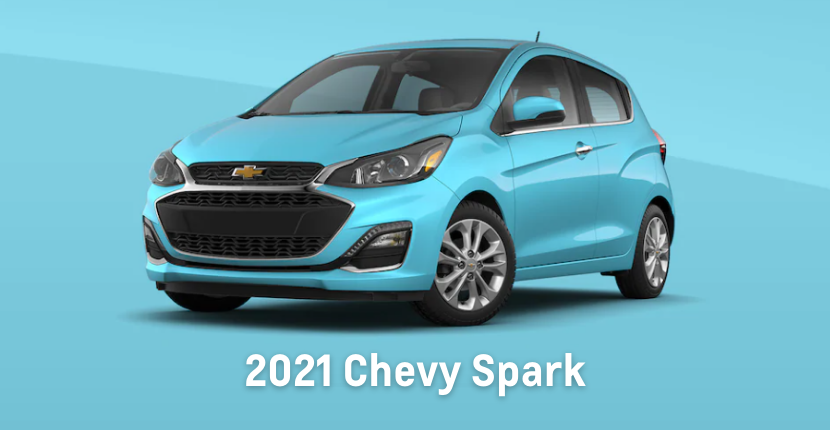 For those looking for an inexpensive vehicle that also delivers quality and functionality, the 2021 Chevy Spark is an excellent choice. The 2021 model is officially the most affordable light passenger vehicle available on the market, as the Chevy Spark price range starts at just $14,395 (taxes included) and is now available at Chevy dealers across the country. The Spark's closest competitor, the Mitsubishi Mirage, will cost you about $1,200 more, and it's quality doesn't come anywhere near the Spark. Read on to see the great value you'll get with the 2021 Chevy Spark.
Interior Cargo Space 
With space for four passengers, the 2021 Chevy Spark has plenty of interior space. Up front, you'll have 41.7 inches of legroom with 33.0 inches of legroom in the back seat. Great for cities and quick trips, the Spark includes 11.1 cubic feet of cargo capacity but expands to 27.2 cubic feet of cargo space with the back bench folded down. 
Safety and Technology
The 2021 Spark has some of Chevy's best safety features available for customers. These include automatic emergency braking, forward collision alert, and lane departure warning, which are available on the 2LT trim level with the CVT automatic transmission. 
In terms of technology, the Spark has impressive features. A 7.0-inch touchscreen Infotainment System and connectivity to Apple CarPlay and Android Auto are standard on the vehicle. Customers can also add four-speaker audio with the LS model or a six-speaker system on higher trim levels. 
Performance and Fuel Efficiency 
The 2021 Spark comes standard with a 1.4-liter I-4 engine, which produces 98 horsepower and 94 lb.-ft. of torque. Light-weight, the Spark is quick and agile on the road. It comes standard with a five-speed manual transmission, and customers can upgrade to a CVT automatic transmission. Combining great value with excellent fuel efficiency, the Spark has a fuel economy of 29 mpg city and 37 mpg highway (while the automatic produces 30 mpg city and 38 mpg highway fuel economy). Additionally, it's speed is evident as it can reach 60 mpg in just 10.7 seconds. 
2021 Spark Additions 
While the 2021 Spark will remain consistent with previous models, the new model will have additional exterior paint color options. Now, customers can also select their new vehicle in Cayenne Orange Metallic or Mystic Blue Metallic for an extra cost, along with the previously available color options. 
2021 Spark Activ 
A distinct variant, the Spark Activ is optional for customers looking for small crossovers. With SUV features and subcompact hatchback proportions, it features a 0.4-inch suspension lift, 15-inch wheels, black plastic fender cladding, unique front-end styling, off-road skidplates, and roof rails. This model is great for the occasional off-roader and anyone with an adventurous spirit. 
Chevrolet Dealers Near Me 
Searching for a "Chevrolet dealer near me"? The search ends here at your Fox Lake Chevrolet dealership, Ray Chevrolet. We have an extensive selection of new and used vehicles for all of your driving needs. Visit us to learn more about the excellent value of the 2021 Chevy Spark or schedule a test drive today!