Our Rear View Camera Mirror Has Your Back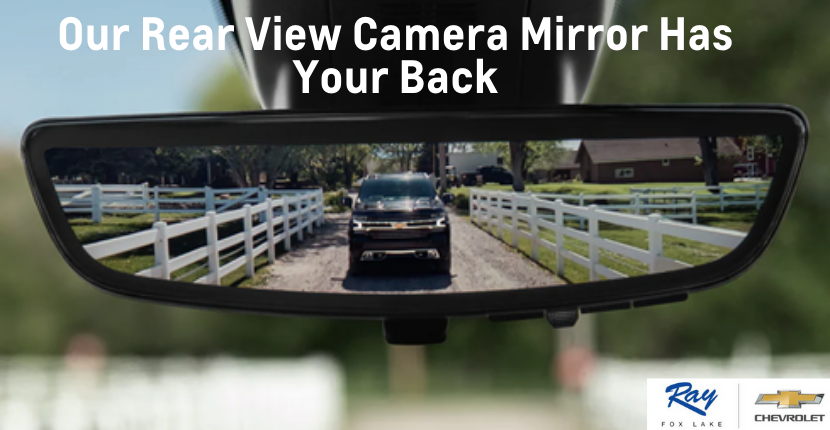 The 2021 Chevrolet Silverado has camera views to help you tow with confidence. You know Silverado has the legendary power to handle heavy loads. But towing isn't about power alone. The Chevy Silverado offers 8 available cameras that give you up to 15 unique views. That's why the Silverado is the best pickup for towing. Check out the Silverado's Rear View Camera Mirror now at Ray Chevrolet!
The Latest Camera Technology 
When you drive the Silverado, towing is easier than ever, thanks to the latest camera technology. With 8 available cameras that provide 15 unique views, you can see everything. And now for 2021, Silverado offers additional dynamic trailering features like available Jack-Knife Alert, Trailer Length Indicator, and Trailer Angle Indicator with Guidelines, which require a compatible trailer. There's also Bed View with Cargo Bed Zoom and Bed Hitch Guidance — all designed to help make your towing job easier from start to finish. From hitching to driving to parking, these features can help improve your ability to move your loads.
Four Available Hitch Views 
The Silverado's Rear View Camera Mirror gives you a better look at your surroundings for more precise alignment when you're connecting a trailer. Hitch View provides a close-up view of the receiver hitch to help with alignment when connecting a trailer. Meanwhile, Surround View gives a top-down bird's-eye view of your truck's surroundings, and Rear Top-Down View shows the clearance between the truck bed and nearby objects. Finally, Bed View allows you to see the cargo bed to help with fifth-wheel or gooseneck hitching or to briefly check on cargo.
Six Available Driving Views 
You'll also have six available driving camera views to help support vehicle and object views around your truck and trailer. A transparent trailer allows you to virtually "see-through" a compatible trailer to check out what's behind you. Front Camera View displays a view in front of the truck with available guidelines to assist with parking and tight maneuvers. Pic-In-Pic Side View combines two views to get a sense of what's around you.
An available dual-function camera-based rearview mirror, the Rear Camera Mirror provides a wider, less-obstructed field of view than a traditional rearview mirror. Rear Trailer View uses an available accessory camera to show objects behind a compatible trailer. Lastly, Inside Trailer View allows the driver to monitor tailored contents or cargo using an available Chevrolet Accessory Camera that can be installed in the trailer.
Five Available Parking Views
With the Silverado's Rear View Camera Mirror, you can maneuver through tight parking lots and along curbs with ease. Rear Camera View displays a view behind the truck with available guidelines to assist with parking and tight maneuvers or to hitch a trailer. On the other hand, Rear Side View provides a line of sight down each side of your truck and trailer via a split-screen.
Add on to it with Rear Side View (Turn Signal Activated), which will show a full screen down the side of the truck along with a Trailer Length Indicator to lane-change by visually showing obstructions with the trailer in adjacent lanes. Bowl View provides a rear-facing 3-D surround view, useful for low-speed backing maneuvers, and Front Side View shows the position of the front tires when parking and during tight maneuvers. Front Top-Down View provides a top-down view of your hood, bumper, and front tires for tight maneuvers in parking lots or along curbs.
Visit Ray Chevrolet!
Looking for a Chevy dealer near me? At Ray Chevrolet, we've got you covered! We are a family-owned and operated Chevrolet dealer that has been serving residents in Lake and McHenry County for over 40 years with new Chevy vehicles. Visit your local Fox Lake Chevy dealer to explore our Silverado options now!