How is My Car's KBB Value Determined?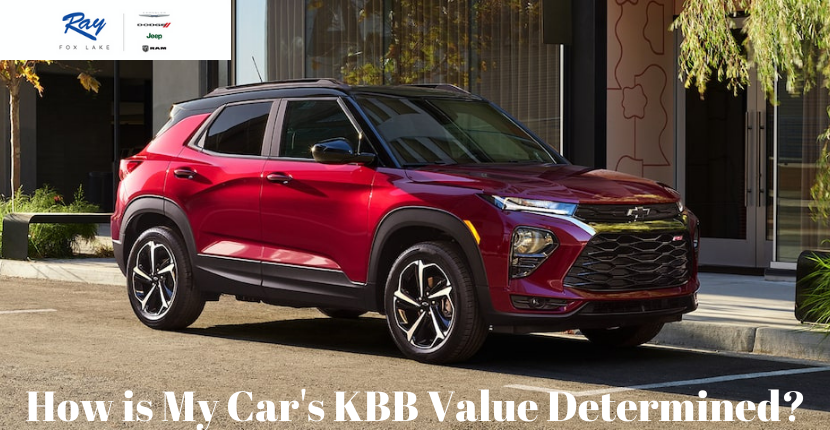 With Kelley Blue Book's Value My Trade tool, you get an instant offer to buy your car. The process is simple and easy. Just tell us about your vehicle's specific features and condition. Then, you get a KBB instant cash offer, good for seven days. You'll bring your car and offer to Ray Chevrolet, where we'll verify the offer using the same questions you answered at home. Then you can get cash or trade-in credit—the offer is the same whether you sell or trade-in. If you want to know "How does KBB calculate value?" we've got you covered. Here's all that goes into valuing your trade-in:
KBB Establishes Values 
Kelley Blue Book starts with basic new vehicle information from the manufacturer each and every day. Then, it receives real-world new car prices and used car prices from actual transaction information to estimate values from various sources. From wholesale actions, KBB representatives audit these auctions regularly to gather a better understanding of a given used vehicle's highest possible "actual cash value." At independent dealers, KBB is able to track consumer sale prices each year. KBB also gathers data from financial institutions to gauge the value of vehicles that have been financed.  
How Values are Determined 
KBB determined the final value of used vehicles by using a proprietary editorial process. It starts with a thorough analysis of all collected data along with historical trends, current economic conditions, industry developments, seasonality, and location. The values are meant to reflect the most current representation of a changing marketplace. Because they reflect the market, the values are therefore relied upon by a variety of leading organizations as well as the average consumer.
Factors that Affect Vehicle KBB Value 
Your Specific Vehicle Details:

KBB's tool factors in details that are specific to your vehicle and critical to its evaluation, including mechanical condition, options, interior and exterior, mileage, year, make and model.

Supply and Demand:

Consumers have a significant role in determining a vehicle's value. When more buyers demand a particular vehicle, and its inventory is down, the value goes up. 

Historical Trends:

Historically, some cars hold their value and are in higher demand than others. Similarly, sometimes transaction prices for vehicles steadily increase over time, making those cars a more sought-after commodity.

Regional Differences:

Buyers may be willing to pay sellers higher prices for the same vehicle depending on regional differences. For example, buyers in rural areas may consider large trucks more valuable than buyers in a city where parking spaces are tight.

Local Market Influences:

KBB also takes into account comparable vehicle sales in your area—this information may include dealer sales data, auction prices, and private seller prices from local advertisements.
Visit Ray Chevrolet! 
At Ray Chevrolet, we are a family-owned and operated Chevrolet dealer that has been serving residents in Lake and McHenry County for over 40 years. Located on US-12, we are a short driving distance away from each town we serve, including McHenry, Chicago, Milwaukee, WI, and Elkhorn, WI. As your local Fox Lake Chevy dealer, we pride ourselves on offering the highest level of service and the best experience any customer could ask for at a Chevy dealership in Fox Lake, IL. Visit us to find out your vehicle's Kelley Blue Book value now!