What Makes A Commercial Chevy Dealer?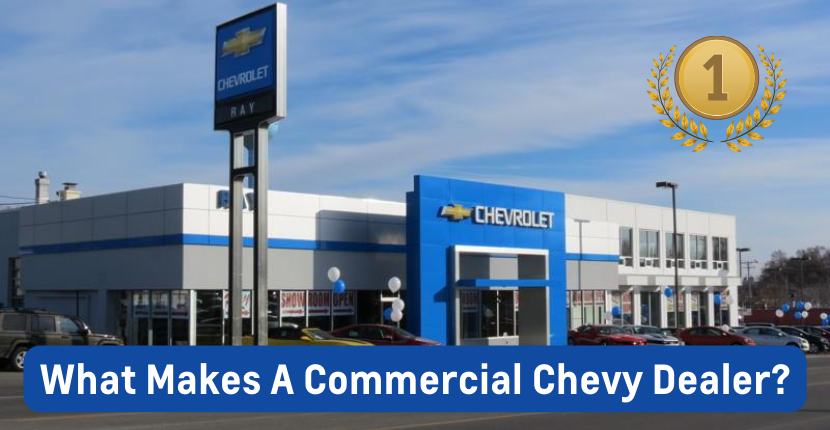 Are you searching for a number one commercial fleet dealer near you? Good news, Ray Chevrolet has been named the North Central Region's number one commercial fleet dealer. This is the sixth year your Fox Lake Chevy dealer has been named number one for the North Central Region. As a Chevy Commercial dealer, we can offer Chevy fleet vehicles, as well as the Business Elite status. Learn more about how we can help you elevate your business now at Ray Chevrolet!
Ray Chevrolet: #1 Commercial Fleet Dealer
Ray Chevy puts the customer first. We also have a great selection of Chevy commercial trucks and commercial vans for sale. That's why Ray Chevrolet is the #1 Commercial Fleet Dealer! We are proud to have held this title for six consecutive years in the North Central Region. 
A fleet dealer focuses on sales of vehicles to corporations, rental car firms, utility companies, and government agencies. Fleet dealerships are critical to the business world. Ray Chevrolet is making a huge impact. To be named the #1 fleet dealer demonstrates the dedication and commitment of our employees.
We Are a Chevrolet Business Elite Dealer 
Our commercial vehicle experts know the meaning of hard work. We're dedicated to learning your unique business needs and ensuring your work vehicles never miss a beat. That's why we're a Chevrolet Business Elite Dealer. 
View our inventory of work-ready vehicles, like the 2022 Silverado 2500HD or 2022 Silverado 3500, and learn more around our commitment to serving your business. Just stop in today!
You Deserve the Elite Treatment 
Business Elite is more than just a name, it's a suite of products and services you won't get from anyone but your Business Elite Dealer. We provide you with a Dedicated Dealer Representative who will provide you with individual help, so you get the exact vehicle you need for your job and recommendations for appropriate upfits. You also get extended service hours so you can get the equipment and services you need outside of a 9-5 day and ensure your business doesn't miss a beat. Lastly, you'll receive Work-Ready Loaners so you can stay on task when you need it. 
Visit Ray Chevrolet! 
Looking for a Chevy dealer near me? At Ray Chevrolet, we are a family-owned and operated Chevrolet dealer that has been serving residents in Lake and McHenry County for over 40 years. Located on US-12, we are a short driving distance away from each town we serve including McHenry, Chicago, Milwaukee, WI and Elkhorn, WI. As your local Fox Lake car dealer, we pride ourselves on offering the highest level of service and the best experience any customer could ask for at a Chevy dealership in Fox Lake, IL. Stop in today for all your commercial and fleet vehicle purchases and see why Ray Chevrolet makes a difference in the car-buying experience!