Best Tires for a Silverado 1500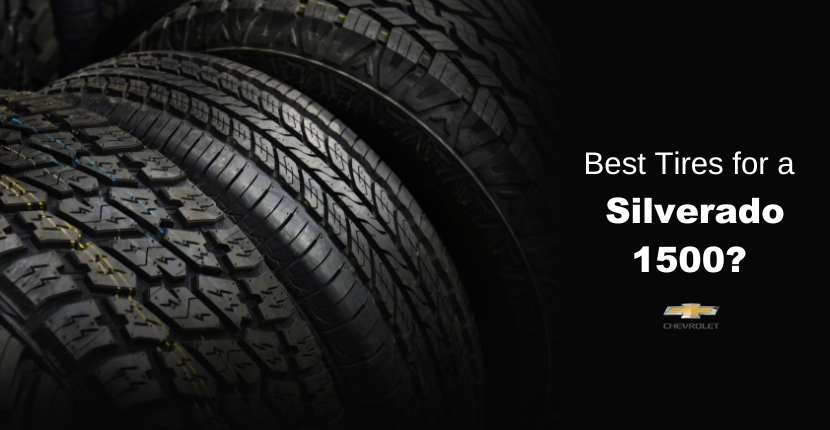 For when only the strongest, most advanced pickup will do, choose the Chevy Silverado 1500. It's hard-working and smart—built to get the job done right every time. The new 2022 Chevrolet Silverado 1500 tells the world your story, and it begins as soon as you take the wheel. From off-road adventures in the first-ever Silverado ZR2 to just navigating the city, this truck has the strength to take on what's next. With so much capability, finding the right tires for your Silverado 1500 can make a huge difference. Check out our great selection of tires for the Silverado 1500 now at Ray Chevrolet! 
Best Tires for Chevy Silverado 1500 
There are many great options for tires for Chevy Silverado 1500. Here are some of the best of each category: 
Goodyear Wrangler Fortitude HT

: These are the best overall tires because they have great traction, are ideal for both wet and dry conditions, produce a quiet and comfortable ride, and are long-lasting. Plus, these tires are made specifically for drivers of pickups, crossovers, and SUVs.

Cooper Discoverer AT3 4S

: These are the best all-season tires. With excellent traction on both wet and dry roads, a perfect snow grip, a lack of shrill noises, and a comfortable and smooth drive, these tires will drive you through every season.

Michelin Defender LTX M/S

: These tires are best for highway driving. Perfect for your highway journey, these tires feature the perfect dry treatment, outstanding wet traction, a quiet and comfortable ride, and a reasonable price. And they won't compromise your ride quality and safety while you're on the highway. 

BFGoodrich All-Terrain T/A KO2

: These are the best performance tires. With a unique texture optimized for top performance, these tires offer a great grip on both dry and wet surfaces, stable handling, a comfortable and smooth ride, and excellent performance in extreme weather conditions.

Bridgestone Blizzak DM V2

: These are the best winter tires for your truck. Offering absolute comfort and safety in harsh winter weather, these tires produce a comfortable and smooth ride, feature a new-generation tire compound, maintain a perfect grip, and offer great traction for icy and wet conditions. 
New Tires and Tire Service at Ray Chevy 
The tires are among the most important parts of your vehicle, so it pays to keep them in good condition—and to replace them when needed. At Ray Chevrolet in Fox Lake, IL, we are proud to provide new tires and tire service in our tire department. Visit your Chevy dealership near me for tire service now! 
Ray Chevrolet is your source for all your Chevy tire needs. Of course, we have a well-stocked tire store and a state-of-the-art service center staffed by certified technicians, but that's just the beginning! We offer competitive pricing and regularly updated service specials to help you save even more. While your Chevy is being serviced, you can wait in our comfortable customer lounge or take advantage of our courtesy transportation shuttle or our home/office pick-up and delivery service.
Visit Ray Chevrolet! 
Looking for a Chevy dealer near me? At Ray Chevrolet Fox Lake, we are a family owned and operated Chevrolet dealer that has been serving residents in Lake and McHenry County for over 40 years. Located on US-12, we are a short driving distance away from each town we serve including McHenry, Chicago, Milwaukee, WI, and Elkhorn, WI. As your local Trusted Chevrolet Dealer, we pride ourselves on offering the highest level of service and the best experience any customer could ask for at a Chevrolet dealer Fox Lake. Visit us to get great tires for your Silverado 1500 today!