2023 USO BBQ for the Troops Archives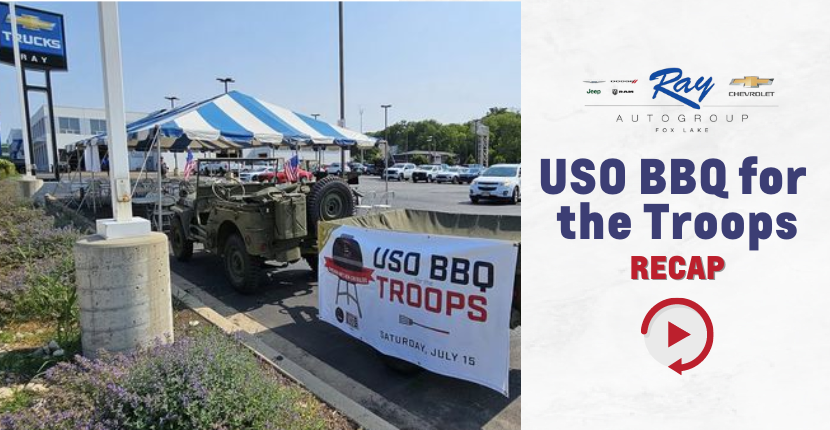 Ray Auto Group had a fantastic day supporting USO Illinois at the USO BBQ for the Troops event with the Fox Lake community this year! We would like to thank everyone that was able to come out and join us. Your support means everything and these events don't work without your support. Thank you to all who showed up to back our local heroes and their families. Together, we were able to make a difference. The Chicago Automotive Trade Association (CATA), which includes Ray Chevrolet and other Chicagoland car dealers, continues to partner with the USO of Illinois to host this event. Over the past ten years, CATA dealers have rallied their communities to help raise over $1,000,000 to support USO of Illinois programs and services. 


What Happened This Year
We had a terrific time grilling out and eating delicious BBQ at this year's USO BBQ for the Troops event. We were able to see a collection of amazing military vehicles and even the Batmobile, thanks to Volo Museum. While we played games with the family, 95 WIIL ROCK played some fantastic music!


Thank You!
Huge THANK YOU to those who supported our USO BBQ For The Troops! Thank you to the Chicago Automobile Trade Association for their support to the local dealers. Thank you to Volo Museum for use of the Batmobile! Thank you 95 WIIL ROCK for helping spread the word. Also, we would like to give a huge thanks to Jeeps On The Run and the Illinois Camaro club for supporting this great cause. It's not too late to donate either! 100% of this money will go back to support local troops and their families. Click here to donate.
Join Us Next Year at Ray Chevrolet!
Ray Chevrolet, your Fox Lake Chevy dealer, enjoys being a part of the community and being involved in events that everyone can get together for. There are a variety of events that are coming up soon. Now is the perfect time to get involved in the Fox Lake community! If you are looking for a Chevy Dealer near me, look no further! Ray Chevrolet has everything you are looking for. So visit us at 39 US-12, Fox Lake, IL 60020, or give us a call at (847) 587-3300!