What Are the Changes on the 2023 Chevy Silverado?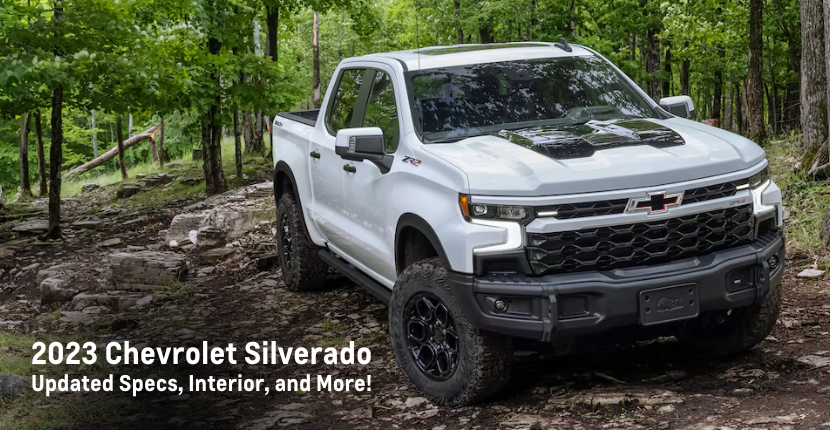 The Chevrolet Silverado 1500 has long been a favorite among truck enthusiasts. Known for its reliability, capability, and rugged charm, the Silverado 1500 has established itself as a trusted companion for both work and play. With the arrival of the 2022 and 2023 models, truck shoppers are now presented with even more options and enhancements to consider. Learn more about the 2022 vs. 2023 Chevy Silverado at Ray Fox Lake Chevrolet today! 
Design Updates that Elevate Appeal
One of the first things that catch the eye when comparing the 2022 and 2023 Silverado 1500 is the extensive design updates. Both models boast a striking and bold exterior that exudes confidence on the road. The muscular stance, aggressive grille, and prominent headlights make a statement wherever you go. However, the 2023 Silverado 1500 takes it a step further with refined design elements that enhance its appeal. These updates give the truck a fresh and modern look, ensuring it stands out from the crowd.
Powerful Engine Options
When it comes to performance, both the 2022 and 2023 Silverado 1500 offer a range of powerful engine options to suit your needs. The 2022 model offers four engine choices, including a standard V6, two V8 options, and a turbocharged four-cylinder engine. These engines provide ample power and performance for various tasks, whether you're hauling heavy loads or enjoying off-road adventures.
The 2023 Silverado 1500, however, introduces two significant performance updates that set it apart. First, it features an upgraded Duramax diesel engine, providing even more torque and towing capabilities. This engine is a game-changer for those seeking exceptional towing power and fuel efficiency. Additionally, the 2023 Silverado 1500 welcomes the ZR2 Bison edition and 2023 Chevy Silverado High Country to its lineup. This off-road-focused variant comes equipped with specialized features and components, allowing you to conquer challenging terrains with ease.
Bed Lengths and Cab Configurations
Both the 2022 and 2023 Silverado 1500 models offer versatility when it comes to bed lengths and cab configurations. Whether you need a spacious crew cab or a more compact double cab, these trucks have you covered. Additionally, you can choose between short, standard, and long bed lengths, depending on your cargo-carrying needs. This flexibility ensures that you can find the perfect combination of cab and bed size to accommodate your lifestyle and work requirements.
Desired Features Across Trim Lines
Chevrolet understands the importance of offering a wide array of features to cater to various preferences and budgets. Both the 2022 and 2023 Silverado 1500 trucks come with a solid selection of desired features across their trim lines. From advanced safety technologies to innovative infotainment systems, you'll find a host of amenities that enhance comfort, convenience, and connectivity in the 2023 Chevy Silverado interior. Additionally, luxurious touches and premium materials are available in higher trims, elevating the overall driving experience. Get your 2023 Chevy Silverado Custom at Ray Chevrolet now! 
Visit Ray Chevrolet! 
Looking for Chevy dealers near me? At Ray Chevrolet, we are a family-owned and operated Chevrolet dealer that has been serving residents in Lake and McHenry County for over 40 years. Located on US-12, we are a short driving distance away from each town we serve including McHenry, Chicago, Milwaukee, WI and Elkhorn, WI. As your local Fox Lake Chevy dealer, we pride ourselves on offering the highest level of service and the best experience any customer could ask for at a Chevy dealership in Fox Lake, IL. Find your 2023 Chevy Silverado for sale today!