Ray Chevrolet Is a 4-Time Dealer of the Year Award Winner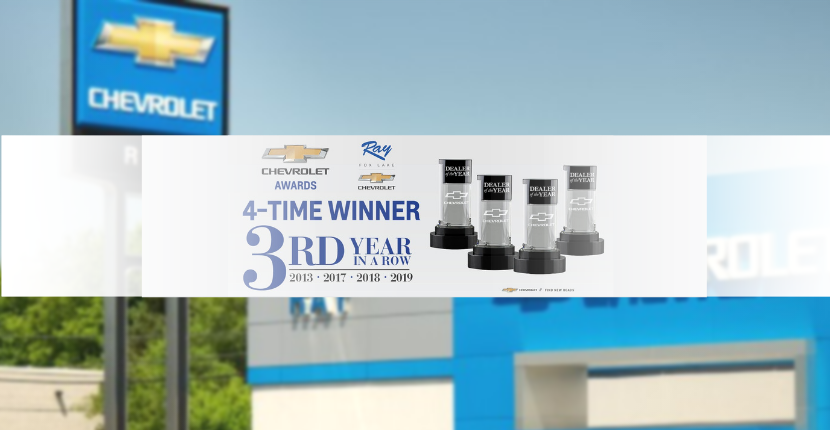 Ray Chevrolet is a Chevy dealership near you, and we have the cars, trucks, and SUVs that you need for your everyday life. We also have commercial and work vehicles that help people get the job done. There are a lot of reasons to choose Ray Chevy for buying your next vehicle, and one of these reasons is that Ray Chevrolet has won Dealer of the Year for the 4th time. This award celebrates the type of dealership this is and the service it offers. Learn more about it below.
What is the Dealer of the Year Award?
General Motors honors Chevrolet, Buick, GMC, and Cadillac dealerships with Dealer of the Year awards every year. These awards showcase the best of the best when it comes to dealerships.
How does a dealership win this award? This award is given based on dealerships that have great performance in sales, service, and customer satisfaction. However, it is not just about getting customers. It is about get customers for life. GM wants to recognize dealerships that have given great customer service experiences so that their customers believe in them.
Why Shop Ray Chevrolet?
Beyond just the awards, Ray Chevrolet is there for you and your needs. Check out some other reasons that you should shop Ray Chevrolet.
We Care About You – At Ray Chevrolet, we care about you and your experience. We want to provide you with the best service possible, whether that is servicing your vehicle or helping you to find an upgrade. We care about your needs and we want to help you in any way we can.
We Have a Great Selection of Vehicles – We also provide you with a great selection of cars, trucks, and SUVs that we can match with you and your needs. We also have work trucks, vans, and other commercial vehicles to help you get the job done. You can check out our inventory online.
We Provide Service for Your Vehicle – There is also a great service department at Ray Chevrolet that can help you fix up your vehicle and get it back on the road in no time.
There are a lot of reasons to shop Ray Chevrolet, and not just because they win awards. However, they do win awards because they provide excellent customer service, a great selection of vehicles, and top-notch service.