Announcement of the Electric Corvette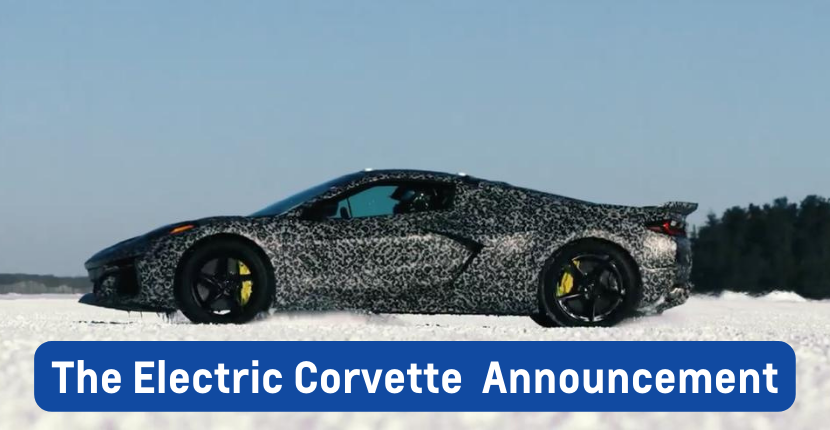 America's Sports Car just got even better. From the humble origins of Bowling Green, Kentucky, the Chevrolet Corvette has long been a staple of Americana. Over 60 years in the making, the 2-door luxury Vette is possibly the most famous sports car in the world, and has long been a symbol of engineering and progress.
Now, as part of Chevy's All-Electric Future Initiative, the Corvette will continue to boldly define the future of automobiles. GM has recently confirmed that, in addition to other popular models such as the Silverado, the Corvette will be the latest and greatest addition to the electric vehicle Chevy lineup. Launching as a hybrid model in 2023, followed by a fully electric version, the new Corvette is reportedly named the E-Ray. Read on the learn more!
Backed by the Ultium Platform
In another stunning example of the potential of GM's Ultium Platform, the new E-Ray will be built upon the highly flexible and powerful Ultium batteries—the same that power everything from the Silverado to the Bolt. Utilizing revolutionary technology that allows battery cells to stack closely together and in nearly any shape, the E-Ray will be just as powerful, if not more, than the gasoline Corvette. All while contributing to a cleaner, gasless future.
Electric Corvette Arrives…
Early reports suggest that the E-Ray hybrid will boast up to 1000 horsepower—a massive leap ahead of the current 670. From what we've seen so far of the Ultium platform, the fully electric E-Ray will feature similar results. Videos of the hybrid E-Ray also demonstrate an all-wheel-drive setup: a recent addition and consumer favorite of the current Corvette models.
In With the New
Not much else is known about the specs of the new E-Ray, however, it will certainly not lose that special Corvette feel and look. Corvettes are wildly popular for their bright color designs, everything from electric blue to racing yellow. In the concept videos released last month, Chevy teased a digital camouflage look for the E-Ray. While it is unknown if this new paint scheme will stick, the E-Ray featured the same classic and beloved body of the current iterations of the Corvette.
Stay in the know!
Chevy electric vehicles are great—Corvette EVs are even better. Here at Ray Chevrolet, we are excited for all of the Chevy EV lineups, especially as Chevy begins producing luxury sports cars like the Corvette EV. Are you interested in the E-Ray? Maybe you'd like to feel 1000 horsepower for yourself? We'll be on the lookout for more E-Ray news, but in the meantime, come see us at Ray Chevrolet! Finding us is easy, simply search for a Chevrolet dealer near me!