How Many Miles Per Gallon Does the 2024 Chevy Colorado Get?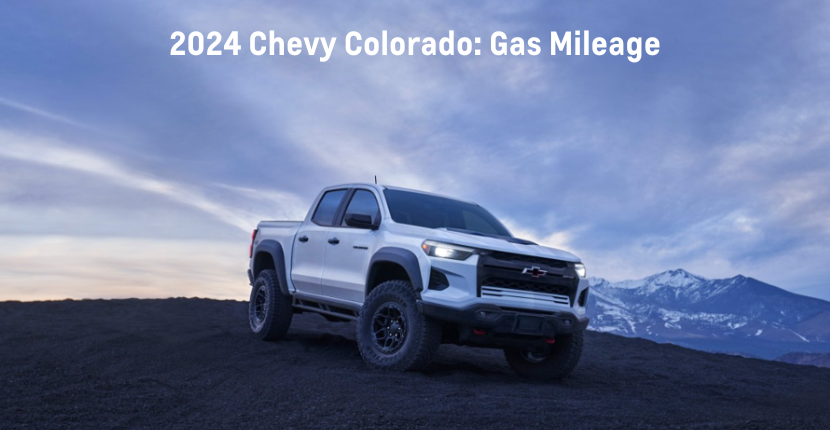 The 2024 Chevrolet Colorado emerges as a true force to be reckoned with in the mid-size pickup truck segment. From its powerful engine options to its versatile trims and advanced technology features, the Colorado ticks all the boxes for both work and play. Whether you're seeking a rugged off-road adventure or a reliable companion for everyday tasks, the 2024 Colorado has something for everyone. Experience the power and versatility firsthand by taking this American powerhouse for a test drive at Ray Fox Lake Chevrolet today!
Unleashing the Power and Performance
Under the hood of every Chevy Colorado 2024 lies a turbocharged 2.7-liter inline-four engine. This powerhouse engine boasts various outputs based on the trim level. The entry-level WT and LT models offer 237 horsepower and 259 pound-feet of torque, while the Z71 and Trail Boss models kick it up a notch with 310 horsepower and 390 pound-feet of torque. The pinnacle of power resides in the crown-jewel ZR2 trim, providing an exhilarating 310 horsepower and an impressive 430 foot-pounds of torque. The ZR2 trim, in particular, brings the same engine as Chevy's full-size Silverado 1500, offering an unparalleled level of performance.
Fuel Economy: Efficiency Meets Power
In the realm of fuel efficiency, the 2024 Chevrolet Colorado doesn't disappoint. The Colorado earns its best EPA fuel economy rating for rear-wheel-drive models, achieving 20 mpg in the city and 25 mpg on the highway. Four-wheel-drive models maintain strong fuel efficiency as well, earning an EPA estimated 19 mpg city and 23 mpg highway. While the ZR2 off-road models experience a slight drop in 2024 Chevrolet Colorado gas mileage, these numbers still hold strong.
Trims and Pricing: Choosing the Perfect Fit
The 2024 Chevrolet Colorado comes in a range of trims to cater to different preferences and needs. While the exact pricing is estimated, it's clear that the Colorado offers a versatile lineup for various budgets:
WT: Starting at about $31,000 

LT: Starting at about $34,000 

Trail Boss: Starting at about $39,000 

Z71: Starting at about $42,000 

ZR2: Starting at about $49,000 

ZR2 Bison: Starting at about $63,000
While the ZR2 trim boasts impressive off-road features, the Trail Boss proves to be a cost-effective alternative that doesn't compromise on the fun. With features like 32-inch all-terrain tires and fender flares, the Trail Boss is ready for rugged adventures.
Interior Comfort, Infotainment, and Safety
The 2024 Chevy Colorado interior received a significant upgrade, introducing a new center console, updated gauge cluster, and an 11.3-inch infotainment touchscreen as standard equipment. The ZR2 models offer an extra layer of convenience with a lockable storage box in the tailgate. Infotainment and connectivity features are top-notch, including wireless Android Auto and Apple CarPlay compatibility, ensuring a seamless and connected driving experience.
Safety remains a top priority for Chevrolet, reflected in the generous driver-assistance features included in the Chevy Safety Assist package. Features such as forward collision warning, lane-keeping assist, and adaptive cruise control contribute to an enhanced driving experience.
Visit Ray Chevrolet! 
Looking for Chevy dealers near me? At Ray Fox Lake Chevrolet, we are a family-owned and operated Chevrolet dealer that has been serving residents in Lake and McHenry County for over 40 years. Located on US-12, we are a short driving distance away from each town we serve including McHenry, Chicago, Milwaukee, WI and Elkhorn, WI. As your local Fox Lake Chevy dealer, we pride ourselves on offering the highest level of service and the best experience any customer could ask for at a Chevy dealership in Fox Lake, IL. Visit Ray Chevrolet for your next truck today!